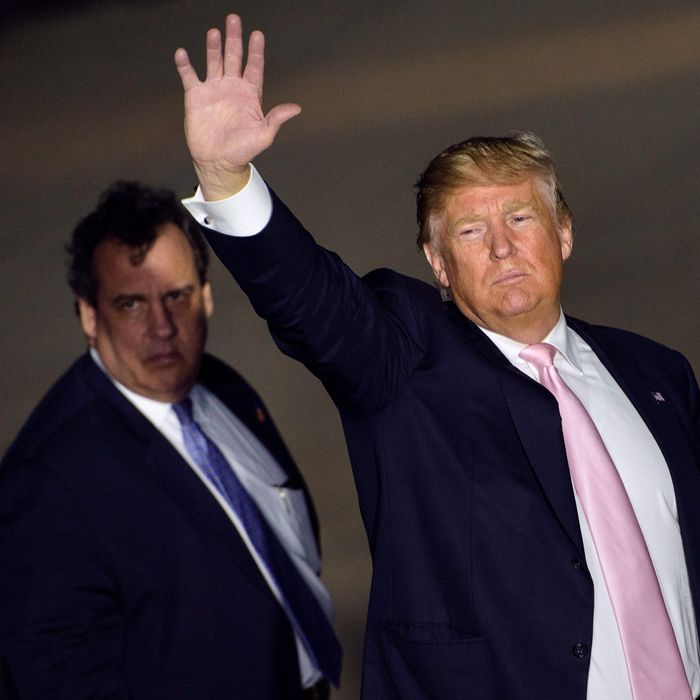 Christie in Trump's shadow.
Photo: Brendan Smialowski/AFP/Getty Images
Ten days after Chris Christie was abruptly jettisoned from Donald Trump's transition team and replaced by Vice-President-elect Mike Pence, the reasons for the New Jersey governor's firing are beginning to pile up. Previous reports had suggested that Trump axed Christie because he was disgusted with the governor's handling of the Bridgegate scandal and that the firing was orchestrated by Trump's son-in-law, Jared Kushner, whose father was imprisoned by Christie in 2005.
Now, there's a new faux pas to add to Christie's ledger: Trump was reportedly angry that the governor tried to weasel his way into the camera's view during the president-elect's speech on Election Night. Yahoo News reports:
Something was bothering Donald Trump as he made his victory speech after the election. The newly minted president-elect took the stage with at least 40 of his closest aides and allies, but according to a high-level campaign source familiar with Trump's thinking, New Jersey Gov. Chris Christie kept pushing to be near the president-elect and "trying to get in shots."

"Trump got annoyed," the source told Yahoo News.

But according to Yahoo News, his goose was already cooked by Election Night. For weeks, Christie had neglected the job of running Trump's transition and was so absent from the campaign that his presence on Election Night surprised staffers. What little work Christie had done finding people to fill administration roles didn't please Trump either, because so many of them were lobbyists, according to the report.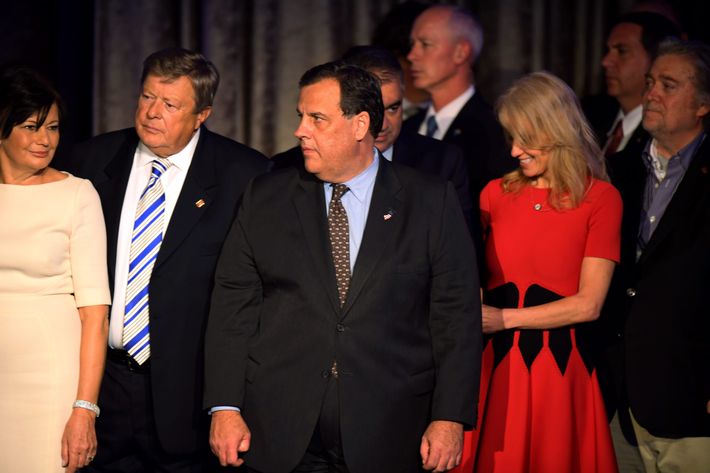 A "Christie ally" disputed much of this account, telling Yahoo News that the problems with the transition arose from Trump's not expecting to win the election. But the Yahoo story jibes with a Politico report from Saturday that places the blames for Christie's falling out of favor with Trump on the governor's preference for lobbyists and failure to vet potential cabinet picks.
But even with their very public fallout, Christie may not have lost his chance to be a part of Trump's administration. The governor was given the opportunity to kiss Trump's ring at the president-elect's New Jersey golf course on Sunday. Little is known about what went on during the meeting, but beforehand Trump told the press they would discuss "lots of things —lots of good things." Thirty minutes later, Christie left. Their conversation, according to Trump, was "very good."