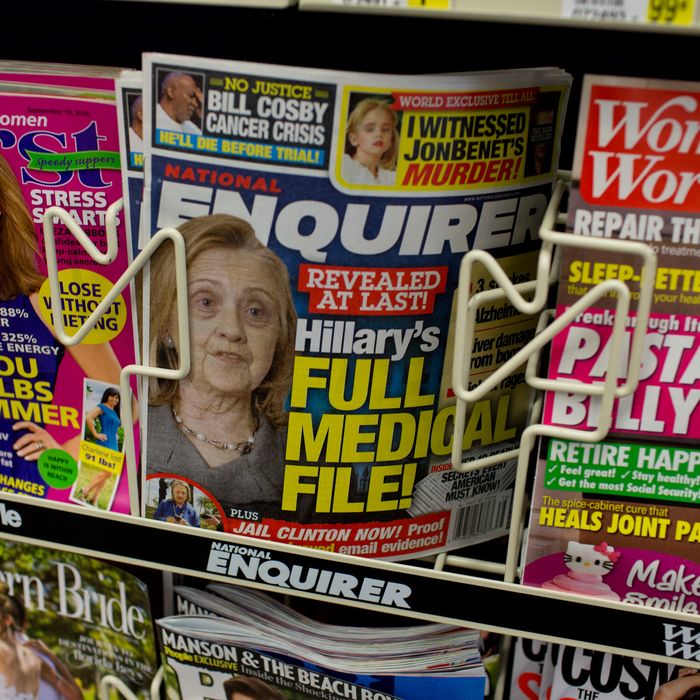 Money well spent.
Photo: Andrew Lichtenstein/Corbis via Getty Images
The National Enquirer is no stranger to controversy, but the tabloid now finds itself in the unique position of being at the center of two separate dramas unfolding in each of the presidential nominees' camps.
Following allegations last week that the Enquirer suppressed a story about an alleged affair between Donald Trump and a former Playboy playmate, a 2011 memo released by WikiLeaks appears to show that a major Clinton Foundation donor, and stakeholder in the tabloid, used his influence to keep damaging stories about the Clintons out of its pages.
According to Politico, a memo written by Clinton aide Doug Band details how "helpful" hedge-fund billionaire Marc Lasry has been "on a number of fronts" that include "killing potential unfavorable stories in the Enquirer."
When Band wrote the memo in 2011, Lasry owned a controlling stake of the Enquirer's publisher American Media, Inc.'s debt, through his fund the Avenue Capital Group.
Both Band and representatives from the Enquirer have denied the allegations made in the leaked memo, and a spokesperson for Avenue Capital Group has called the assertions allegedly made by Band "ridiculous."
The memo was written amid a nasty conflict between Band and Chelsea Clinton, who was growing concerned about the aide's conflicts of interest. As previously reported, it appears that Band drafted the memo in an attempt to explain that mixing the activities of his own firm, Teneo, and the Clinton Foundation, was beneficial for everyone. Band points to Lasry as "a good example of the complex relationships a friend/supporter can have within the Foundation."
Band claims in the memo that Lasry, aside from his considerable donations to the Clinton Foundation, responded "favorably to our requests to use his plane for Foundation and the Clintons' personal purposes" and even hired Chelsea as a chemical-industry analyst at the hedge fund.