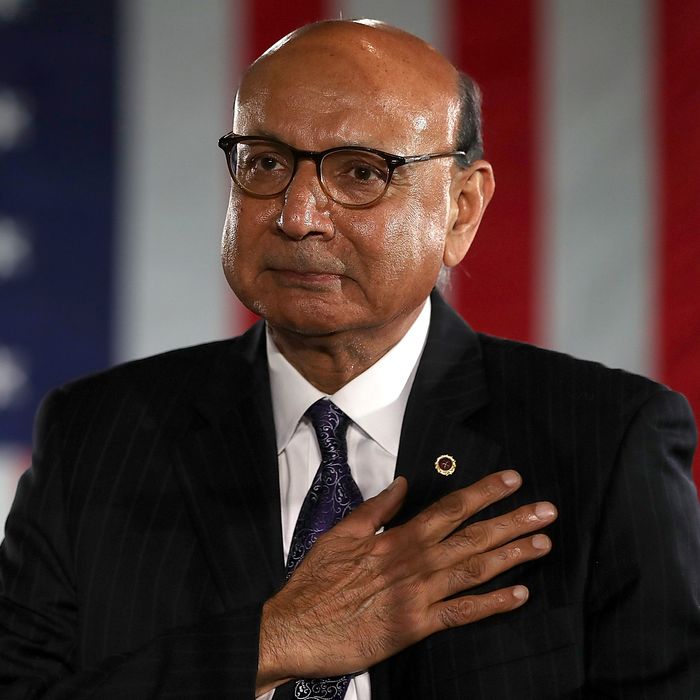 Khizr Khan pleads with his countrymen.
Photo: Justin Sullivan/Getty Images
Hillary Clinton continued to campaign hard in New Hampshire on Sunday, joined onstage by folk legend and New England native James Taylor, as well as Trump's perhaps most well-known adversary, gold-star parent Khizr Khan.
Khan addressed Trump directly in his remarks:
"Donald Trump, would my son, Capt. Humayun Khan, have a place in your America? Would Muslims have a place in your America? Would Latinos have a place in your America? Would African Americans have a place in your America? Would anyone who isn't like you have a place in your America?"
Khan's son, U.S. Army Captain Humayun Khan, was killed while serving in Iraq in 2004. The father became an outspoken opponent of Trump, and a target of Trump's vitriol after Khan appeared at the Democratic National Convention.
Clinton has been campaigning tirelessly in New Hampshire, a vital battleground state. On Monday, President Obama will fly to the state to lend his support.
The Clinton campaign also chose Sunday to release a new video featuring Gordon Humphrey, the former Republican senator from New Hampshire, saying that he will "vote against Trump."
Humphrey's opposition to Trump shouldn't come as much of a surprise. He was one of 30 Republicans who signed a letter questioning Trump's suitability for office last month, and in an article for CNN, Humphrey vowed to quit the party if Trump wins the White House.
Words of support for a Democrat would have been all but unimaginable from the arch-conservative former senator until recently. Since leaving government in 1990, Humphrey has remained outspoken in his support of Republicans, and he even praised the tea party during its ascendance.
In the ad, Humphrey calls Trump "not normal," says Trump will "get us into a nuclear war," and urges voters to support Clinton "for the sake of our families' safety."
"On Tuesday, millions of lifelong Republicans will vote against Donald Trump," he says. "I'm one of them."
The urgency in his voice may have something to do with the fact that Clinton's lead in the state has shrunk to almost nothing in the past few weeks.
Khan wrapped up his speech on a more hopeful note — at least for Clinton supporters — with an answer to his own questions: "Thankfully, Donald Trump, this isn't your America."