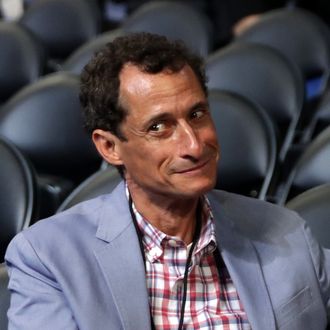 At least Clippy isn't around to see this.
Photo: Chip Somodevilla/Getty Images
To see examples of man's inhumanity toward the machines he's created, you don't need to tune into HBO's Westworld. NBC News reports that the FBI is feeding the 650,000 emails found on Anthony Weiner's computer through a specially designed program, which could speed up the investigation into Hillary Clinton's private email server.
The computer program — which we hope is not becoming sentient for a number of reasons — is designed to pluck out emails to and from Clinton aide Huma Abedin, while ignoring her estranged ex-husband's presumably troubling correspondence. The laptop was discovered as agents were investigating allegations that Weiner exchanged explicit messages with a 15-year-old girl.
The New York Times reported that the program will allow agents to determine whether Abedin's emails are copies of correspondence already examined by the bureau. Robert E. Anderson Jr., a former senior FBI executive, told the paper it could take less than a day for the program to identify duplicates. FBI agents would then review the files to confirm that they are just copies of previously examined emails.
That could allow the FBI to release more information on the nature of the new trove of Abedin emails before the election — unless the program turns up new correspondence. In that case, the emails would be sent to other agencies to determine if they contain classified information. That process could drag out the Abedin email controversy for months.