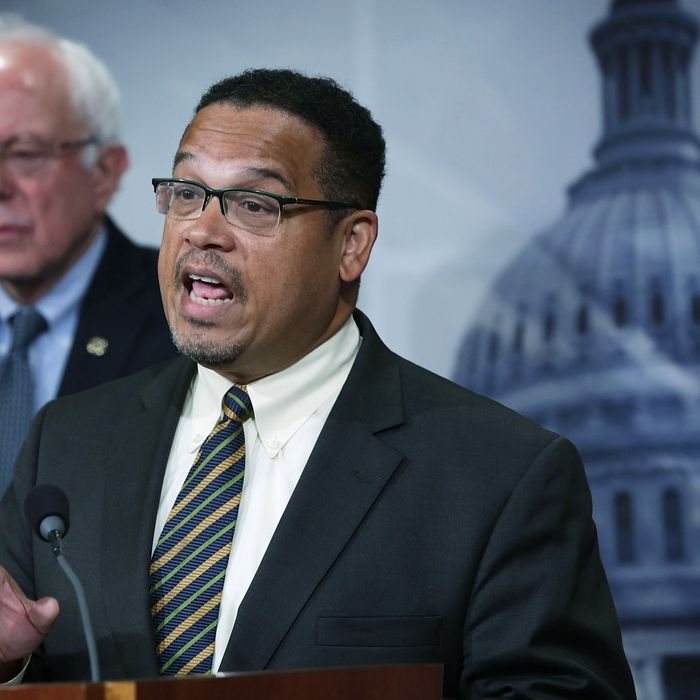 Populists take the wheel.
Photo: Alex Wong/Getty Images
Outgoing Senate Minority Leader Harry Reid announced on Sunday that he would support Representative Keith Ellison of Minnesota as the next chairman of the Democratic National Committee.
Senator Chuck Schumer, who is expected to succeed Reid as minority leader, also endorsed Ellison on Friday. Support is growing for Ellison as the DNC finds itself in something of a leadership crisis following the surprise defeat of Hillary Clinton last week.
Reid's office released this statement on Sunday afternoon:
My friend Keith Ellison is a terrific leader and a strong progressive who knows how to get things done. Now is the time for new thinking and a fresh start at the DNC. Now is the time for Keith.
Ellison is known for his populist leanings and said on Sunday's Meet the Press that he would like to see the Democratic Party focused on protecting and assisting the country's working class. "Every single Democrat in this country better be thinking the exact same way," Ellison said. "How can we help the average American worker, you know, right out there, worrying about whether that plant's going to close. Fighting for them, standing up for them."
During the primaries, Ellison became the second member of Congress to endorse Bernie Sanders, and the Vermont senator in turn has been a vocal supporter of Ellison for DNC chairman, even posting a petition in support of his candidacy on his website.
Despite the expressions of support, Ellison has still not officially announced that he will even run.
Speaking on ABC News, Ellison said that he will make an announcement about the chairmanship "real soon."