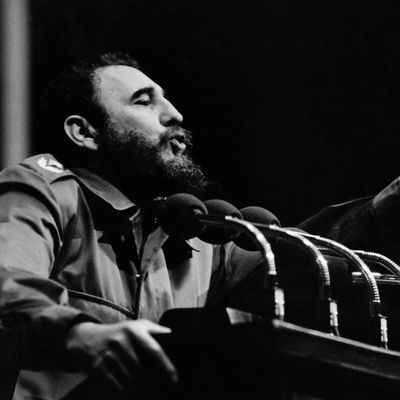 Castro addressing a Havana crowd in the 1970s.
Photo: AFP/AFP/Getty Images
Longtime Cuban leader Fidel Castro has died at the age of 90. The one-time revolutionary, who rose to power promising democracy only to deliver a repressive communist autocracy, had ruled the small island nation for nearly 50 years. While Castro became an inspiration to, and nurturer of, leftist and communist movements across Latin America and in Africa, he also relished his role as a perpetual adversary of the American government across ten U.S. presidencies, especially during the Cold War when Cuba's alliance with the Soviet Union almost led to nuclear war during the Cuban Missile Crisis in 1962. Castro also survived multiple attempts to depose him, including the failed Bay of Pigs invasion, which the U.S. supported in 1961.
General Raúl Castro, Fidel's younger brother and chosen successor in Cuba since 2008, announced the news of his brother's death in a televised address just after midnight Friday. In Florida's Miami-Dade County, where exiles and refugees who had fled Castro's regime form a large and powerful community, flag-waving Cubans filled the streets to cheer the news, according to the Miami Herald.
In that exile community, as the Herald also points out in its obituary, Castro was known as a tyrant whose repressive regime forced hundreds of thousands of Cubans to flee their homeland after he overthrew Fulgencio Batista in 1959 and converted the country's capitalist economy into a socialist one. Castro would eventually turn harder left and become more authoritarian, establishing a communist police state, restricting speech, and jailing or killing his political opponents. That ongoing crackdown led to additional waves of Cuban refugees to the U.S., as did the pressures of Cuba's perpetually crippled economy under the Castro regime's policies.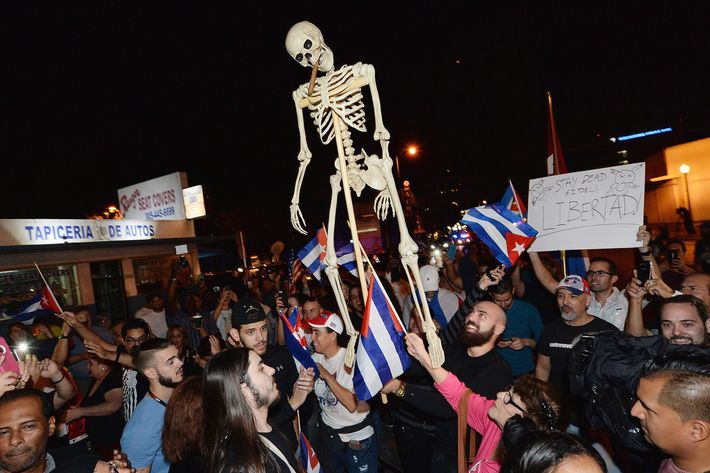 But in Cuba, and to many around the world, Castro was also considered a champion of the poor who delivered land and free health care and education to his country's peasant class, and who outlasted the fall of the Soviet Union and the embrace of capitalism by countries like China and Vietnam. Castro's rise to power is also the stuff of legend to many leftists and revolutionaries. Castro survived imprisonment, exile, and his own disastrous strategic mistakes to lead a successful guerilla war against Batista in the late 1950s alongside the youthful and infamous Marxist revolutionary Che Guevara. When 32-year-old Castro seized power in 1959, he was Latin America's youngest leader, and Castro went on to support many other revolutionary movements in the region throughout his rule.
If Castro's communist regime outlived all its contemporaries, the man himself also lived much longer than anyone expected, including long enough to see a diplomatic thaw with the United States that had once seemed impossible. In 2014, President Obama and General Raúl Castro negotiated a restoration of diplomatic ties between the two nations, ending more than five decades of hostility between the two governments. Obama visited Cuba the next year, the first U.S. president to do so since 1928. The U.S. embargo against Cuba, which can only be ended by an act of Congress, remains in effect, but some travel and trade restrictions have been lifted regardless.
Responding to Castro's death on Saturday, President Obama offered his condolences to the Castro family and reminded the Cuban people to "know that they have a friend and partner in the United States of America" as they come to terms with the leader's death and legacy. "We know that this moment fills Cubans — in Cuba and in the United States — with powerful emotions, recalling the countless ways in which Fidel Castro altered the course of individual lives, families, and of the Cuban nation," Obama added. "History will record and judge the enormous impact of this singular figure on the people and world around him."
Obama's forward-looking response is already drawing angry rebukes from Republicans like Florida senator (and Cuban-American) Marco Rubio:
The initial response of U.S. president-elect Donald Trump, meanwhile, was to just tweet "Fidel Castro is dead!" Though, he later offered a more pronounced celebration of Castro's demise. Trump, who promised to roll back Obama's efforts at diplomacy with the Cuban regime during his presidential campaign, vowed to help those on the "totalitarian island" obtain freedom in a statement released late Saturday morning. "Though the tragedies, deaths and pain caused by Fidel Castro cannot be erased, our administration will do all it can to ensure the Cuban people can finally begin their journey toward prosperity and liberty," Trump added.
The Cuban government has declared that there will be nine days of mourning for Castro, followed by a funeral in Santiago de Cuba on December 4. Before then, Castro's ashes will be taken on a cross-country tour, and in the meantime, Cubans are being invited by state media to pay tribute to Castro by signing a "solemn oath of complying with the concept of the revolution."