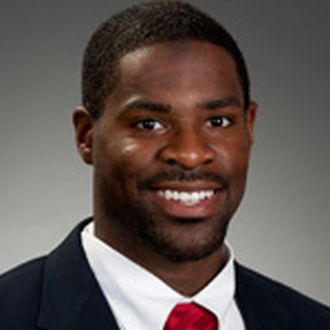 Officer Brentley Vinson.
Photo: Liberty University
Charlotte police officer Brentley Vinson will not be prosecuted in the fatal shooting of Keith Lamont Scott, a 43-year-old black man who was killed near an apartment complex this September. His death set off days of protests — which occasionally turned violent — in Charlotte.
Mecklenburg County district attorney Andrew Murray said the shooting was justified and that Vinson, who is also black, "acted lawfully." Officials had maintained that Scott was armed with a handgun, and had refused commands to drop the weapon at the time of the shooting. His family disputed this account, and said Scott was unarmed. Dashboard and body-camera footage released days after after the shooting didn't provide conclusive evidence that Scott had a gun, or that he threatened officers.
The district attorney showed new surveillance footage — recorded from a convenience store before the September 20 shooting — at Wednesday's press conference. He pointed out what appears to be the outline of a holster on Scott's ankle, reports the Charlotte Post and Courier, which, Murray said, supported additional evidence that Scott had been carrying a weapon.