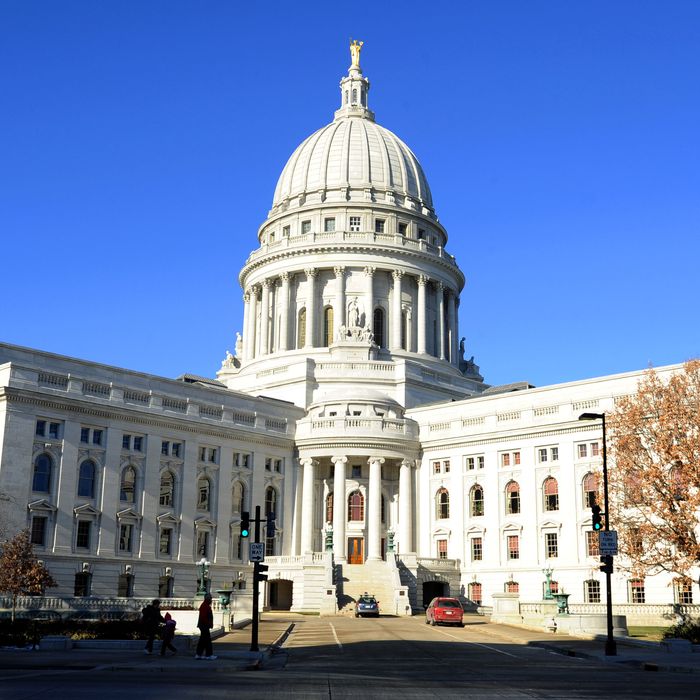 Wisconsin's state capital one of many places where Republicans walked tall on November 8.
Photo: Karen Bleier/AFP/Getty Images
Just about everybody who has paid attention to the 2016 presidential election knows that Hillary Clinton's campaign broke down in a series of states she was supposed to win but didn't. What is less well-known is that Democratic hopes of chipping into the large Republican advantage in control of state legislatures foundered in the same states.
Alex Wagner has the basics at The Atlantic, working from the wish list of the Democratic Legislative Campaign Committee (the main Democratic group financing and working for state legislative opportunities):
One week ago, the DLCC's target list included flipping seats in critical states: the Michigan House, the North Carolina House, the Pennsylvania House, the Florida Senate, both the Senate and House assemblies of Ohio, as well as Wisconsin's State Assembly and Senate.

But on November 8, all of these states—Michigan, North Carolina, Pennsylvania, Florida, Ohio, Wisconsin—ended up being the ones that ultimately destroyed Clinton's chances of winning the presidency. The DLCC's attempts to make Democratic inroads met with a similar end.
Yeah, Democrats flipped both of Nevada's state legislative chambers, and flipped one in another blue state, New Mexico. They lost the Iowa and Minnesota senates and the Kentucky House. Democrats also failed to break Republican–conservative-Democrat legislative coalitions in New York and Washington, but created a Democratic–moderate-Republican coalition in Alaska. All in all it was pretty much a wash, and that's not good news for Democrats coming out of a really bad midterm election in 2014.
What really ought to galvanize Democrats is the realization that all the shock over Trump carrying Ohio, Michigan (tentatively), Pennsylvania, and Wisconsin obscured the fact that Republicans already controlled — and retained — the legislatures in all four of those states. It's being largely discussed as a Trump triumph that percolated down-ballot. Maybe it was a Republican victory that percolated up-ballot.
In any event, the state legislative results have created a more difficult landscape for Democrats hoping to reverse the Republican state advantage leading into the next redistricting process. But Republican successes (particularly at the presidential level) could well create a better environment for Democrats in 2018 and 2020.