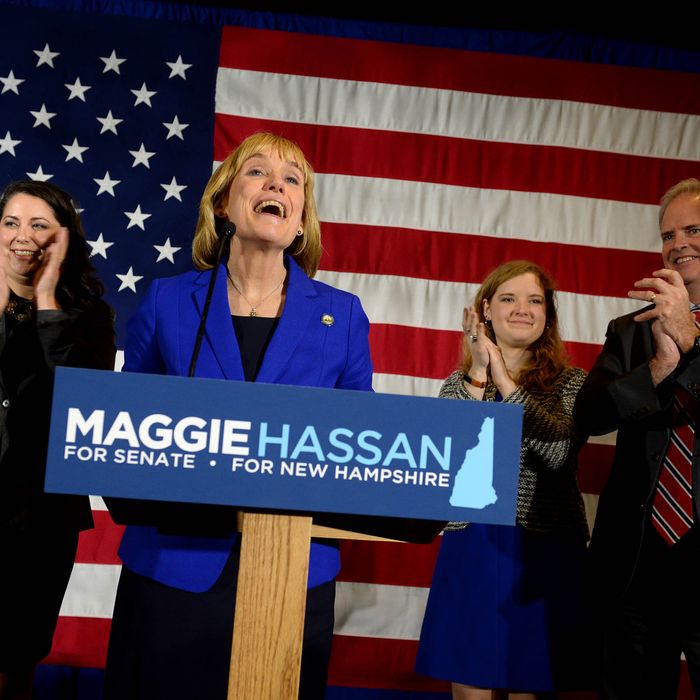 Rare sighting: a happy Democrat on Election Night.
Photo: Darren McCollester/Getty Images
Wednesday evening brought a rare bit of good news for the Democrats when New Hampshire senator Kelly Ayotte conceded in one of the nation's tightest races. Come January, she will hand her hard-fought Senate seat over to New Hampshire's Democratic governor Maggie Hassan.
In the end, Hassan carried the day by only the thinnest of margins; just 1,023 votes separated the two women.
After conceding, Ayotte called her opponent to congratulate her. The senator also released a statement saying, "I wish Governor Hassan, her husband Tom, and their children Ben and Meg the very best."
The race in New Hampshire was one of the most closely contested in the country and both parties poured huge sums of money into the state. In total, the senatorial race there cost around $120 million, an astronomical sum for a small state race.
Ayotte is probably best known to Americans outside of New Hampshire for her constantly shifting position on Donald Trump. During a debate she called him a "role model" one moment, then changed her tune saying neither candidate had "set a good example" and that she wouldn't vote for him.
Hassan's triumph is a big win for the Democratic Party, but not enough to hand them a majority in the Senate. During the campaign, pundits speculated that the Democrats might be able to gain majority control of both the House and the Senate, but in the end neither came to fruition. Ayotte's seat is only the second new Senate seat the Democrats were able to pick up, the other being a Senate seat from Illinois, which will go to Tammy Duckworth.
Republicans now hold 51 seats in the Senate, the bare minimum to constitute a majority, while the Democrats can claim 48. In the House, the numbers are even more grim for the Democrats. Republicans hold 239 House seats — well over the 218 needed for a majority — to the Democrats' 192.