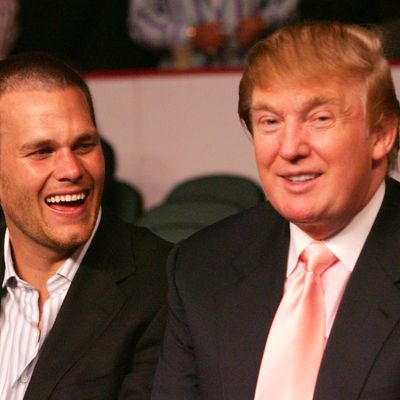 Brady's face is all the proof you need.
Photo: Donna Connor/WireImage
Donald Trump spent the weekend grumbling about superstars like Jay Z and Beyoncé endorsing Hillary Clinton, but now it's her turn to jealously ramble about her opponent's celebrity supporters at every campaign stop. On the eve of the election, Trump announced that he's received glowing, last-minute endorsements from the greatest sports figures on the planet (to New England voters, at least).
"Tom Brady, great guy, great guy. Great guy, great friend of mine — great, great champion. Unbelievable winner," Trump told the crowd at a Monday night rally in Manchester, New Hampshire. "He called today and he said, 'Donald, I support you, you're my friend, and I voted for you.'"
Trump continued: "And I said, 'So Tom. You voted for me, you support me, am I allowed to say it tonight at this massive crowd in New Hampshire?' He said, 'If you want to say it, you can say it.' Okay? Tom, that's what a champ is all about."
The crowd roared at the mention of the New England Patriots quarterback — but there's more! Trump revealed that while sitting on his plane today, his aides handed him a letter from the team's coach, Bill Belichick. Trump said he asked if he could read the letter at his rally, and Belichick asked to reword it. Trump expected the coach to tone down his praise, but instead, "It was much better, it was stronger." He read the revised letter in its entirety:
Congratulations on a tremendous campaign. You have dealt with an unbelievable slanted and negative media, and have come out beautifully – beautifully. You've proved to be the ultimate competitor and fighter. Your leadership is amazing. I have always had tremendous respect for you, but the toughness and perseverance you have displayed over the past year is remarkable. Hopefully tomorrow's election results will give the opportunity to make America great again. Best wishes for great results tomorrow.

Bill Belichick
We know that Trump is friendly with both Brady and Belichick. The QB said Trump has been a "good friend" for many years, and during the primaries he had a "Make America Great Again" hat in his locker. The coach had dinner with Trump in March and his girlfriend posted photos on Instagram. Even team owner Bob Kraft is pro-Trump. He said in February that the mogul has been "a very close friend of mine for over two decades."
However, all three men have avoided officially throwing their support behind Trump. Despite speculation, Brady did not appear at the Republican National Convention. "While I am not comfortable discussing politics publicly, I am very comfortable talking about my friendships with people who happen to be in politics," Kraft told the Boston Globe on the eve of the Massachusetts primary.
With the notable exception of LeBron James, who stumped for Clinton, prominent sports figures have mostly stayed out of election politics. It's possible that the Patriots decided to be coy about their political leanings, especially considering that most of New England is not Trump country. Some on Twitter found the last-minute endorsements fishy.
Despite the stylistic concerns, Belichick's note appears to be legit. CSN New England confirmed Tuesday that the Patriots coach did send Trump an endorsement letter.
But what about Brady? During a Monday-morning radio interview, the quarterback said he hasn't taken advantage of early voting in Massachusetts, but he does intend to cast a ballot. "No, I haven't voted yet so I'm going to, uh — in the next, I don't know if it's today or tomorrow," he said.
Early voting ended on Friday in Massachusetts, and the deadline to apply for absentee ballots was Monday at noon. As the Globe notes, Brady discussed watching the Buffalo Bills play the Seattle Seahawks "tonight," suggesting the interview was recorded on Monday. But based on a photo posted Tuesday by the radio show, it appears as though Brady made it by the deadline:
It's unclear how CSN confirmed Belichick's endorsement, as earlier attempts to confirm both the coach's and quarterback's presidential picks had gone unanswered. The team's next press conference is Wednesday.
Hunter Walker of Yahoo News got through to Belichick, but he didn't feel like talking politics at the time.
Then the plot thickened:
And thickened even further:
The Patriots are truly living up to their name. If nothing else, this controversy will provide Americans with a fun distraction from watching cable news and shaking on Tuesday.