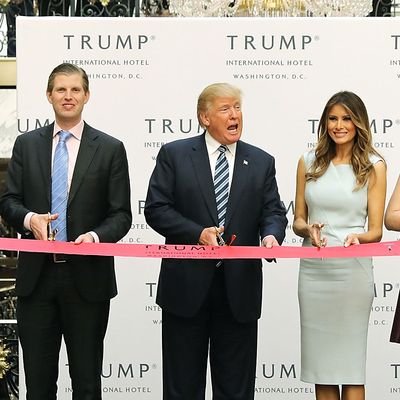 From cutting the red ribbon to being in charge of red tape.
Photo: Chip Somodevilla/Getty Images
In the less than two weeks since Donald Trump's victory in the presidential election, there have already been several news stories illustrating how Trump's new role will create conflicts of interest with his family businesses. The latest alarming example comes via the Washington Post, which reports that about 100 foreign diplomats packed into a junior ballroom at the new Trump International Hotel in D.C. this week to drink Trump brand Champagne and hear a sales pitch for the new hotel. Unsurprisingly, a chief topic of discussion among the attendees so soon after Trump's victory was, "how are we going to build ties with the new administration," and one way to do that seemed more than clear:
"Believe me, all the delegations will go [to Trump's hotel]," said one Middle Eastern diplomat who recently toured the hotel and booked an overseas visitor. The diplomat said many stayed away from the hotel before the election for fear of a "Clinton backlash," but that now it's the place to be seen.

In interviews with a dozen diplomats, many of whom declined to be named because they were not authorized to speak about anything related to the next U.S. president, some said spending money at Trump's hotel is an easy, friendly gesture to the new president.

"Why wouldn't I stay at his hotel blocks from the White House, so I can tell the new president, 'I love your new hotel!' Isn't it rude to come to his city and say, 'I am staying at your competitor?' " said one Asian diplomat.

While business wasn't going so great at Trump's new hotel during the campaign, the property's general manager, Mickael Damelincourt, reports that demand has now picked up, and the hotel is completely sold out for Trump's inauguration in January. Damelincourt also said he didn't think that the hotel's connection to the future president was the reason for the surge, instead citing the hotel's prime location and that other hotels are also doing good business in the area.
Then again, the Trumps may not see the connection as a bad thing, as the New York Times reported on Saturday that Trump's new D.C. hotel "could also take on an outsize role in the Trump administration" since "his children may stay there when they come to the nation's capital, and there is chatter that it may supplant Blair House, which traditionally hosts foreign dignitaries visiting the president." This thinking should come as no surprise, considering how much money the Trump campaign managed to spend on Trump businesses over the past year.
On average, diplomatic delegations spend millions of dollars a year for rooms and events at capital-area hotels, and the Post notes that there is no ethics rule that prevents corporations or foreign governments from spending heavily at Trump properties. Also, a Congressional Research Service analysis out last month indicated no legal requirement for a president to "relinquish financial interests because of a conflict of interest," though, as the Times reported this week, Trump will have to make annual disclosures of his assets (starting in 2018), and he may need to be wary of the obscure "Emoluments Clause" in the Constitution, "which prohibits any government official from taking payments or gifts from a foreign government, or even from sharing in profits in a company that has financial ties to a foreign government." Of course, very little is currently known about Trump's business ties due to his unprecedented refusal to release his tax returns during his presidential campaign.
Trump also promised during his campaign that he would hand control of his businesses over to his children if he won the election, but that hasn't happened yet, and even if it does, ethics experts are doubtful such a move would be enough to prevent Trump from using the presidency to profit his family's businesses. The Trump Organization says the matter will be adequately addressed, but conflict-of-interest concerns have only been exacerbated by Trump naming his children to his transition team; the fact that Trump's daughter, Ivanka, attended the president-elect's first meeting with another head of state on Thursday; and how Trump is reportedly interested in having Ivanka's husband, Jared Kushner, become a senior advisor in the White House — assuming that's not already illegal. And even just looking at the new hotel, it was also reported this week that the Trump International has launched its second lawsuit against Washington D.C. in an attempt to reduce its tax bill.
In response to these concerns, a collection of watchdog groups wrote a letter to Trump this week urging him either to place his businesses in a real blind trust, which would hand management to an independent third party, or simply to liquidate his assets. There is also a social-media-fueled effort underway to pressure the House Oversight and Government Reform Committee to conduct a "bipartisan review of Trump's financials and apparent conflicts of interest." That call-in campaign has apparently overwhelmed the committee's phone lines.
Democrats in Congress are gearing up for a fight over Trump's conflicts of interest as well, according to Politico. Though, it's a different story across the aisle, since a survey of lawmakers "found only a smattering of support among rank-and-file Republicans for aggressive oversight into Trump's financial situation, and nearly every GOP leader approached for an interview on the topic hunkered down or tried to avoid comment." On the other hand, Richard Painter, the former chief ethics counsel to President George W. Bush, told ThinkProgress that just looking at the issue of diplomats staying at the Trump International in D.C., President Trump, unless he divests from the hotel, will already be violating the Constitution's Emoluments Clause the moment he takes office. There seems to be virtually no precedent for enforcing that clause, however, and it might be up to a competing hotel, should they be willing to risk the wrath of the White House, to sue Trump for violating the clause and stealing their business. It's either that or wait for Republicans in Congress to impeach Trump over the issue, and that will likely be a very, very long wait.
This post was updated to include the New York Times' Saturday reporting on how the Trumps may utilize the D.C. hotel, Politico's reporting on how Democrats in Congress intend to respond, and comments from a former Bush administration ethics lawyer.