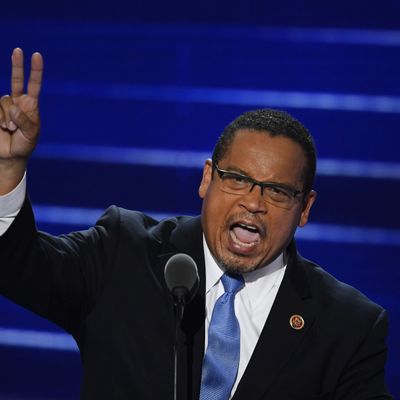 The new face of the DNC?
Photo: David Paul Morris/Bloomberg via Getty Images
Potential candidates continue to come to light in the race for the chairmanships of the Democratic National Committee and the Republican National Committee.
Among Democrats, a clear front-runner has emerged: Congressman Keith Ellison of Minnesota. After days of speculation, Ellison officially announced his bid for the position on Monday while unveiling endorsements from 40 influential lawmakers, community organizers, and union leaders.
Ellison is an outspoken supporter of Bernie Sanders — support which Sanders has heartily reciprocated — and has said he believes the Democratic Party must recommit itself to serving America's workers. Ellison co-chairs the House of Representatives' progressive caucus and is the first Muslim ever elected to Congress. His selection would be seen as a clear rebuke to Trump's Islamophobic rhetoric.
During Monday's announcement Ellison said:
Democrats win when we harness the power of everyday people and fight for the issues they care about. It is not enough for Democrats to ask for voters' support every two years. We must be with them through every lost paycheck, every tuition hike, and every time they are the victim of a hate crime. When voters know what Democrats stand for, we can improve the lives of all Americans.
Ellison may be the current favorite, but he is far from the only name in consideration. Others who have been floated include one-time DNC chair Howard Dean, former Maryland governor and 2016 presidential candidate Martin O'Malley, South Carolina Democratic Party chairman Jaime Harrison, and the DNC national finance chairman Henry Muñoz III.
The field is even more crowded on the Republican side of the aisle. Now that Reince Priebus is assuming his new role as Donald Trump's chief of staff, competition to replace him has been fierce. Though presidents usually choose the party chairman, insiders say Priebus will have a sizable role in picking his successor. Sources tell Politico that Priebus would not be leaving his post if he thought he'd be replaced by the likes of Corey Lewandowski.
Front-runners for the Republican position include Trump's deputy campaign manager David Bossie; Ronna Romney McDanier, Mitt Romney's niece and the chair of the Michigan Republican Party; Matt Pinnell, an Establishment Republican — if that phrase even means anything anymore — and the RNC's state party liaison; and even Trump's former campaign manager Kellyanne Conway.
Both parties' chairs will be chosen early next year.