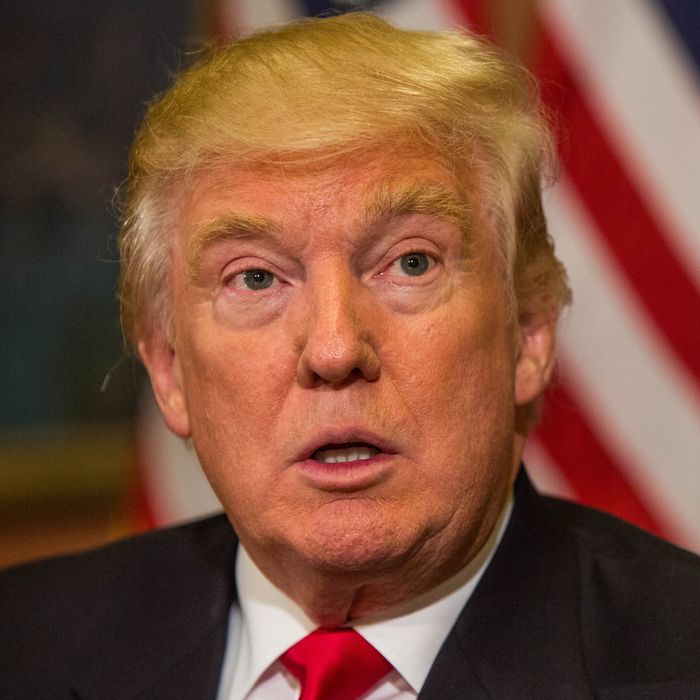 If you're Donald Trump, win or lose, it was rigged.
Photo: Zach Gibson/Getty Images
President-elect Donald Trump, who won the presidential election via the Electoral College but lost the popular vote to Hillary Clinton by at least 2.2 million votes, now falsely claims that he won the popular vote as well — because millions of Clinton voters voted illegally. Trump made the baseless accusation via Twitter on Sunday afternoon after he and members of his staff spent the weekend ridiculing efforts by the campaigns of Hillary Clinton and Green Party candidate Jill Stein to recount the results in three swing states:
Trump then went on to contend that though the Electoral College delivered his victory, it also prevented him from winning as big as he could have, because "it would have been much easier for me to win the so-called popular vote than the Electoral College in that I would only campaign in 3 or 4 states instead of the 15 states that I visited. I would have won even more easily and convincingly (but smaller states are forgotten)!"
That Clinton could have such a commanding lead in the popular vote while losing the election has outraged her supporters, and Trump's loss, in this respect, has led many to argue that Trump and the Republican Party — despite winning control of the White House and maintaining control of the Senate and House — have not been given a mandate by voters to push through their agenda. That line of thinking has clearly made no impact, however, if the president-elect himself somehow believes that he won the popular vote despite there being no evidence to support that conclusion.
Then again, such an outcome was also preordained by Trump himself. America's future president spent a considerable amount of time during his campaign irresponsibly claiming that the election was rigged against him, despite there being no evidence of that. In addition, Trump infamously and repeatedly refused to say whether or not he would accept the results of the election — should those results indicate that he had lost. He implied that he would only accept a loss if he agreed that the results were legitimate, and neither he nor his campaign ever elaborated on how that legitimacy would be judged.
It should thus come as no surprise that Trump is now applying the same rigged-election logic to the metric by which he did, in fact, lose the election. It is also extremely unlikely that Trump will provide, or be able to provide, any credible evidence for his claim that more than 2.2 million Clinton voters voted illegally. Four hours after his initial tweet, Trump tried to bolster his claim by declaring:
There is no credible evidence to support that assertion. Furthermore, there is no credible evidence of large-scale voter fraud occurring in the United States, nor any credible evidence of any large-scale voter fraud having occurred in the 2016 election. Most claims to the contrary have originated on right-wing websites and those claims have not stood up to scrutiny, like an article on conspiracy theorist Alex Jones's InfoWars website, which falsely claimed that 3 million undocumented immigrants voted illegally this year.
Then again, perhaps Trump is launching this fake news story in order to look forward, rather than backward:
In reality, the more credible concerns that have been raised over this year's election results have been allegations of voter suppression by Republicans in communities that traditionally vote Democratic and suspicions that foreign hackers — who national-security experts say had already been trying to influence the U.S. election — may have manipulated some of the results in favor of Trump (although, no evidence for that has been confirmed, and both the Clinton campaign and the White House assert they have found no reason to believe such claims).
Last week, Green Party presidential candidate Jill Stein launched a fundraising effort to petition for recounts in three swing states that went for Trump and proved essential to his Electoral College victory. While the Green Party's motivations for pursuing that campaign remain up for debate, the three states in question — Wisconsin, Michigan, and Pennsylvania — were identified by a group of computer scientists and election lawyers as having somewhat suspicious results. The first Stein-prompted recount effort, in Wisconsin, is already underway. On Saturday, the Clinton campaign said they would participate in that and any other recount the Stein campaign facilitates, but stressed that it had evaluated the concerns and available evidence in those states and ultimately concluded the matter wasn't worth pursuing.
President-elect Trump, his senior advisor Kellyanne Conway, and his nominee for White House Chief of Staff, Reince Priebus, have all criticized the recount efforts, arguing that nothing will ultimately change the result of the election. Trump has called the recount push a Green Party fundraising scam, and he has accused the Clinton campaign of hypocrisy for criticizing his rigged-election rhetoric before the election, only to participate in recount efforts after the election. For her part, Conway has labeled the Clinton and Stein campaigns "sore losers" for pursuing the recounts and falsely accused the Clinton campaign of contesting the results of the election. Conway even complained on Sunday that the Clinton campaign chose to take part in the recount even after Trump indicated he wouldn't fulfill his campaign promise to appoint a special prosecutor to further investigate Clinton's email-server scandal.
Trump tweeted on Saturday night: "The Democrats, when they incorrectly thought they were going to win, asked that the election night tabulation be accepted. Not so anymore!" It seems, a day later, that the president-elect is still unwilling to accept the results of the election himself — unless those results label him a winner. Put another way, the president-elect of the United States is now publicly contesting the legitimacy of the very election that awarded him the presidency.
This post has been updated throughout to include additional context and analysis.