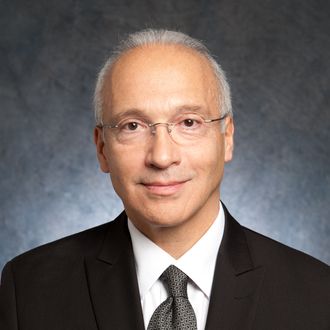 Before Donald Trump is sworn in as the 45th president of the United States in January, he might have to testify in a Trump University fraud lawsuit that's scheduled to begin November 28.
U.S. district judge Gonzalo Curiel, whose name might sound familiar, is holding a hearing on Thursday — the same day Trump will meet with President Barack Obama in the White House — on that class-action suit that alleges the program defrauded its students of thousands of dollars by enrolling them in bogus real-estate classes. Among the issues that Curiel will hear Thursday: a request from Trump's attorneys to exclude any and all campaign rhetoric from the trial, reports The Guardian. That includes any comments made about or by Trump before Election Day, including the then-candidate's assertion that Curiel had an "absolute conflict" because of his "Mexican heritage." Attorneys are petitioning to keep out everything from Trump's Twitter rants to sexual-assault allegations because, per Trump attorney Daniel Petrocelli, it's irrelevant to the civil case at hand and could prejudice the jury.
According to Politico, Trump's lawyers have tried to push back the trial date, but Curiel has so far denied those requests. Trump doesn't have to be present for these hearings — he does have that White House meeting, anyway — but he may be called to testify by both the plaintiffs and the defense once the trial starts.
Once sworn in as president, Trump could still face litigation, thanks to a 1997 Supreme Court ruling over Paula Jones's sexual-harassment suit against Bill Clinton. In a unanimous decision, the justices said presidents weren't immune from civil litigation over events that took place before they assumed office. And it seems President Trump probably will either have to fight it out in trial or settle. By USA Today's account, Trump has about 75 lawsuits pending, which includes a few where Trump is suing. Some of these are ludicrous and will almost definitely be dismissed, but a few are weaving their way through the court system. The Trump University cases — there is another federal suit, and New York attorney general Eric Schneiderman is also investigating, along with another probe into the Trump Foundation — are the most serious because of the fraud allegations.
Law professor Christopher Peterson told USA Today that these cases could reverberate to the Oval Office. "If the fraud and racketeering allegations against President-elect Trump are true, he is legally impeachable for high crimes or misdemeanors," Peterson said. "Whether he is politically impeachable is another matter."