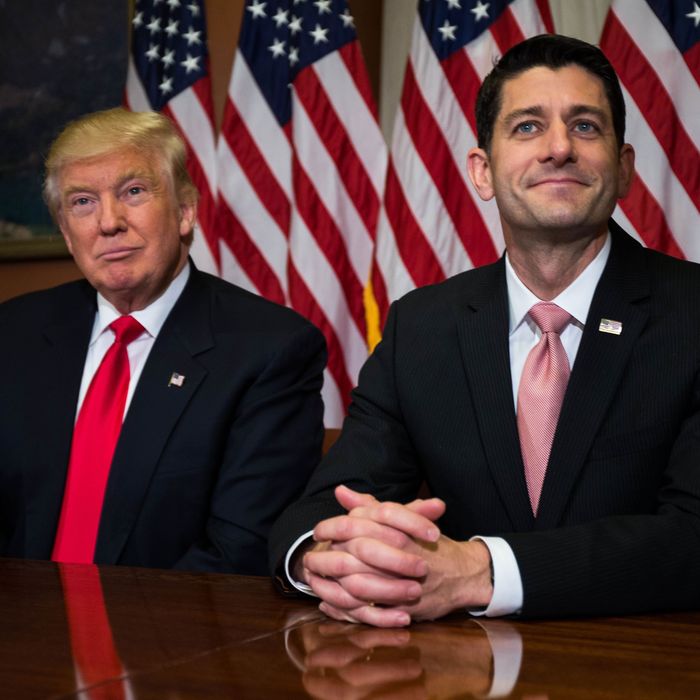 "I can tell that we are going to be friends."
Photo: Zach Gibson/Getty Images
About a month ago, the Washington Post published a video of Donald Trump boasting about grabbing women's genitals without their consent, and a bunch of Republican lawmakers disavowed the nominee, in a bid to survive the Democratic landslide that was surely coming.

House Speaker Paul Ryan did not revoke his endorsement of the GOP nominee, but he did inform his caucus that he would no longer publicly defend the candidate.
Trump received this rebuke with characteristic grace.
And then Ryan was faced with a backlash. And America started forgetting about that whole "grab 'em by the pussy" thing. And then Donald Trump was elected president.
So, on Thursday, Trump sat down to lunch with Ryan and discussed their plans to cut taxes on the rich and throw 22 million people off of Medicaid.
"Quite frankly we can't get started fast enough … whether it's on healthcare or immigration so many different things. We're going to lower taxes, so many different things we are going to be working on," Ryan told Politico.
Trump then met with Vice-President-elect Mike Pence and Senate Majority Leader Mitch McConnell. The latter described the sit-down as a "first-class meeting."
"A lot of really great priorities. People will be very, very happy. Well, we have a lot," Trump told reporters after meeting with McConnell. "We're looking very strongly at immigration, we're going to look at the borders, very importantly, we're looking very strongly at health care and we're looking at jobs. Big league jobs."
Trump's tensions with the Establishment GOP were rooted in more than mere insults — many aspects of the mogul's platform defy Republican orthodoxy, including a $1 trillion infrastructure stimulus and subsidies for child care.
It's unclear whether these policies will have traction with down-ballot Republicans in Trump's brave new world.
But Trump and the GOP leadership seem to agree that the Affordable Care Act must be repealed and replaced with something terrific, that more money should be spent on border security, and that rich people should pay less in taxes.
While Republicans have control of both chambers of Congress, they do not have a veto-proof majority in the Senate. Thus, they will need Democratic votes to pass major legislation, barring the total abolition of the filibuster.
On Wednesday, McConnell suggested that he would not pursue that maneuver.
"I think overreaching after an election, generally speaking, is a mistake," McConnell told reporters. "I think it's always a mistake to misread your mandate, and frequently new majorities think it's going to be forever. Nothing is forever in this country."
That last bit has to be among the most comforting things liberals have ever heard Mitch McConnell say.