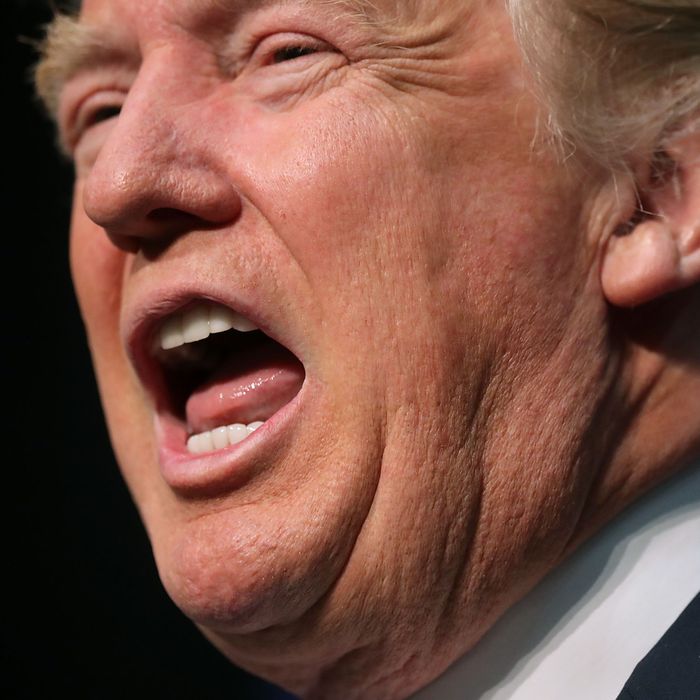 Muzzled.
Photo: Chip Somodevilla/Getty Images
With just one more day to go until the election, it seems Donald Trump's aides aren't taking any chances. The New York Times reports that Trump has effectively lost his Twitter privileges, with members of his staff taking over his account, or at least co-authoring his tweets.
In at least one case mentioned by the Times, Trump press aide Hope Hicks edited and approved one of his tweets before sending it; it was allegedly inspired by Trump's jealousy over Obama's larger plane.
Trump is a notoriously colorful tweeter. There are many examples, but claiming global warming is a Chinese conspiracy, retweeting an image of Hillary Clinton and a Star of David, and feuding with a one-time Miss Universe winner are among his greatest hits. Efforts by the campaign to tone down his online rhetoric are part of a broader strategy to keep Trump on-message and away from controversy in the final days before the election.
Perhaps those close to Trump have also read about two new polls that show their client's temperament is beginning to have a depressing effect on the electorate.
A new NBC/Wall Street Journal poll shows that 64 percent of Americans feel that the election has made the nation more divided, and 60 percent feel it has made them less proud to be an American. Only 12 percent felt that way before the election in 2008.
In the same poll, 62 percent of respondents said that they felt the country was moving in the wrong direction.
More important to poll-watchers in the Trump camp, 76 percent of those polled said that whether Trump has the right temperament to be president has been vital in their decision on who to vote for. Though both candidates remain the least-popular presidential hopefuls in the history of the poll, respondents were more comfortable with Clinton as commander-in-chief.
Similarly, another poll out on Sunday from the Washington Post and ABC showed that voters overwhelmingly felt that Clinton was better qualified and had a personality and temperament more suited to the White House than Trump.