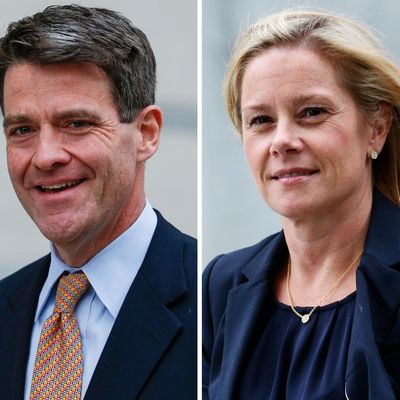 Bill Baroni and Bridget Anne Kelly.
Photo: Kena Betancur/Getty Images
The Bridgegate trial verdict is in. After five days of deliberations, the jury has found two former Christie allies, Bridget Anne Kelly and Bill Baroni, guilty on all counts in a scheme to shut down access lanes to the George Washington Bridge as payback against the mayor of Fort Lee for failing to support Christie in his gubernatorial reelection bid.
Kelly, the governor's former deputy chief of staff, and Baroni, a former top Christie appointee at the Port Authority, were each charged with seven counts of conspiracy and fraud. The most serious of the crimes carry a maximum of up to 20 years in prison; the two will face a sentencing hearing next year, on February 21. Lawyers for Kelly and Baroni, who asked for a mistrial during deliberations, are likely to appeal the verdict.
The six-week trial drudged up the details of the political plot, painting the traffic jams as an eccentric revenge against Fort Lee mayor Mark Sokolich in September 2013. The prosecution built their case around their star witness and the so-called mastermind of the subterfuge, David Wildstein. Wildstein, who was Christie's "enforcer" at the Port Authority, pleaded guilty in the conspiracy in exchange for his testimony, which, besides laying out the state's case, helped destroy what was left of Christie's reputation. Wildstein testified that he had informed Christie of "the tremendous amount of traffic in Fort Lee" at the 9/11 memorial.
Both Kelly and Baroni took the stand in their defense. Kelly, who sent the infamous "time for some traffic problems in Fort Lee" email, said that after hearing Wildstein's plan, believed it was a legitimate traffic study. She added, under oath, that she told the governor about Wildstein's plan about a month before he executed it. Baroni also testified that he understood this traffic study to be genuine. Baroni, who was accused of ignoring Sokolich's desperate calls and texts during the jams, said Wildstein instructed him to do so, otherwise he'd cave and ruin the study. Wildstein, Baroni claimed, said he would handle it.
Governor Chris Christie has not been charged with any wrongdoing in the case, and has maintained he did not know of the lane closures before or while they were happening. The governor, who's heading to New Hampshire and Pennsylvania to campaign for Trump this weekend, said in a statement that he was "saddened about the choices made by Bill Baroni, Bridget Kelly, and David Wildstein," but he reiterated that he had "no knowledge prior to or during these lane realignments."
"Anything said to the contrary over the past six weeks in court is simply untrue," he added.
This post will has been updated with additional details.