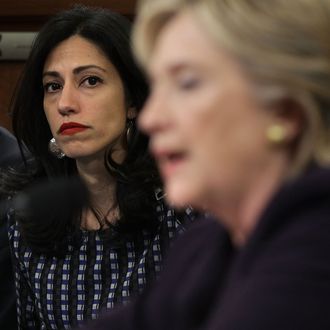 It continues.
Photo: Alex Wong/2015 Getty Images
For those waiting with bated breath for updates on the Huma Abedin emails found on Anthony Weiner's computer, here's Thursday's development: The FBI has found emails related to Hillary Clinton's time as secretary of State, according to CBS News. The emails are not duplicates of emails previously found on Clinton's private server, but we still do not know how many emails were found, or if they're relevant to the investigation in any way.
We learned yesterday that senior FBI officials were informed of the discovery of new emails at least two weeks before director James Comey's announcement, and now the New York Times has a reason for the delay in making that information pubic. The FBI needed custom software to allow it to view Weiner's emails without reading Abedin's, since it did not have a warrant to view her communications. Somehow building that program took two weeks. Comey was only briefed on the full plan for reading the emails a day before he sent a letter to Congress. Basically, it's looking increasingly unlikely that there will be an official update on the Abedin emails before the election.