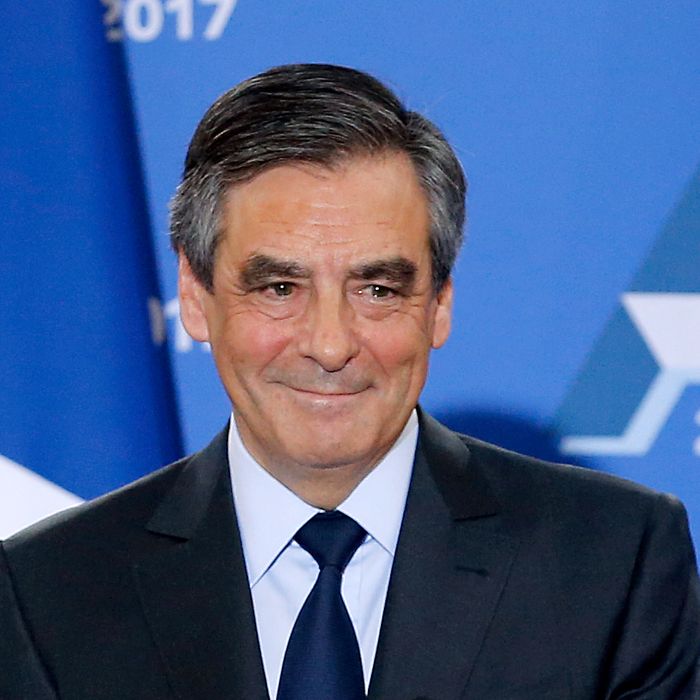 To the victor go the smiles.
Photo: Chesnot/Getty Images
Former French prime minister François Fillon won the French Republicans' presidential nomination on Sunday, beating out Bordeaux mayor Alain Juppé. Fillon is an outspoken admirer of Margaret Thatcher and ran on a platform of massive economic reform, tougher immigration restrictions, and traditional, socially conservative values. His rival was an avowed moderate and promoted a multicultural vision of France.
Now Fillon will likely go up against Marine Le Pen and her infamous far-right National Front party in next year's presidential election. Le Pen is running on a staunchly anti-immigration and anti–European Union platform.
Fillon's win — in what was the Republicans' first-ever American-style primary contest — represents a potentially significant shift to the right for France, as well as the continuation of what has become something of a global political trend. Le Pen has been effusive in her praise of Donald Trump, and Fillon ran on campaign rhetoric that sometimes seemed to mimic Trump's "Make America Great Again" slogan.
"My campaign has been understood," he said. "France will not stand for its decline. My ambition is to lift up the nation to be the best version of itself."
France is well behind the European average in terms of employment and economic growth, and Fillon has run on promises to reform the country's economy, even boasting policy positions that sound distinctly un-French: lengthening the work week from 35 to 39 hours, pushing the retirement age to 65, and eliminating 500,000 jobs from France's famously robust public sector.
Fillon also supports strict immigration quotas as tensions between immigrants and the rest of the French population continue to grow, and he has fashioned himself as the man who can defeat terrorism — he literally wrote the book on Beating Islamic Totalitarianism.
Also like Trump, Fillon is perceived as being sympathetic to Russian president Vladimir Putin. He has said that France should ally itself with Putin and the regime of Syrian president Bashar al-Assad against ISIS.
While Trump's election in the U.S. and the surprise triumph of Brexit in the U.K. has forced France to come to terms with the possibility of an unprecedented victory by the radical right, Fillon securing the nomination may complicate Le Pen's path the presidency. In many ways, Fillon's views overlap with Le Pen's, but he is a much easier candidate for many to stomach. Supporting the Republicans comes with much less of the political risk and social stigma that backing the fringe National Front would entail.
The third party in all of this is the ruling Socialist Party of sitting president François Hollande, but the socialists are widely seen as unlikely to hold on to the presidency. Hollande will end his first term next year as the least popular president in more than 50 years and with his party out of favor throughout the country.