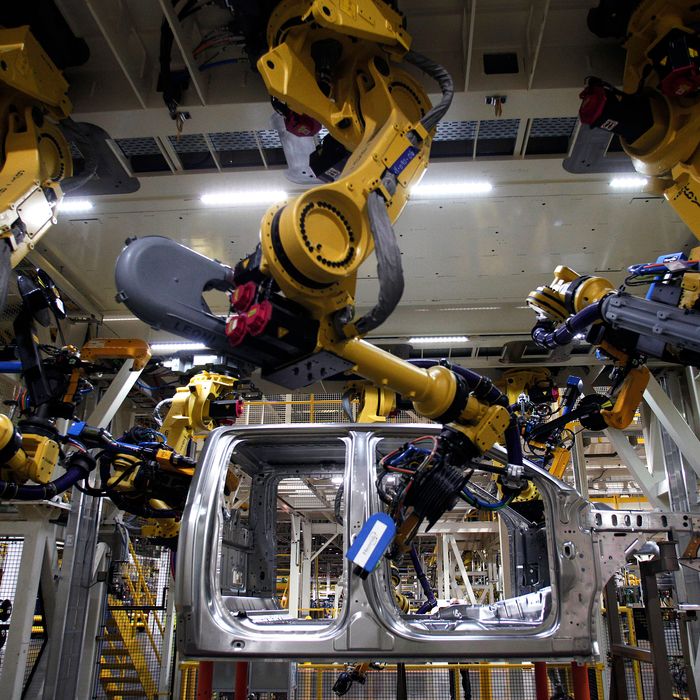 These robots may soon be out of a job.
Photo: Bill Pugliano/Getty Images
During his campaign, Donald Trump singled out Ford by name, calling on the American car manufacturer to stop sending jobs to Mexico and threatening to slap tariffs on any cars imported from south of the border.
Ford's chief executive officer Mark Fields must not respond well to threats; he admitted to Reuters on Tuesday that Ford was still planning on moving the production of its small cars from Michigan to — you guessed it — Mexico.
"We're going forward with our plan to move production of the Ford Focus to Mexico," he confessed at an interview during the Los Angeles Auto Show. Still, Fields claimed that the move would not have any effect at all on American jobs because the move south will "make room for two very important products we'll be putting back into Michigan plants."
Ford has yet to announce what, exactly, those "important products" are, but Fields is convinced that the move will lead to "no job impact whatsoever."
While Trump won the White House on his promise to keep American manufacturing jobs in America and punish companies that move jobs overseas — hitting them with "a 35 percent tax when they want to ship their products back into the United States" — Ford still considers it cheaper to manufacture outside of the country.
"It's very difficult for us to be able to make money on a vehicle produced in the U.S," said Fields, explaining that if they were to raise the cost of their smaller cars to compensate for the increased cost of manufacturing in the United States the car just "wouldn't sell."
Car makers may not be pleased with Trump's stance on American manufacturing, but they are still eager to do business with him. The group representing American car makers — including Ford — is already lobbying Trump's team to do away with President Obama's fuel-economy standards, which would compel car manufacturers to double the fuel efficiency of their vehicles by 2025.
Fields, for one, doesn't see the contradiction. Fuel economy and trade, he says, "are two separate issues."