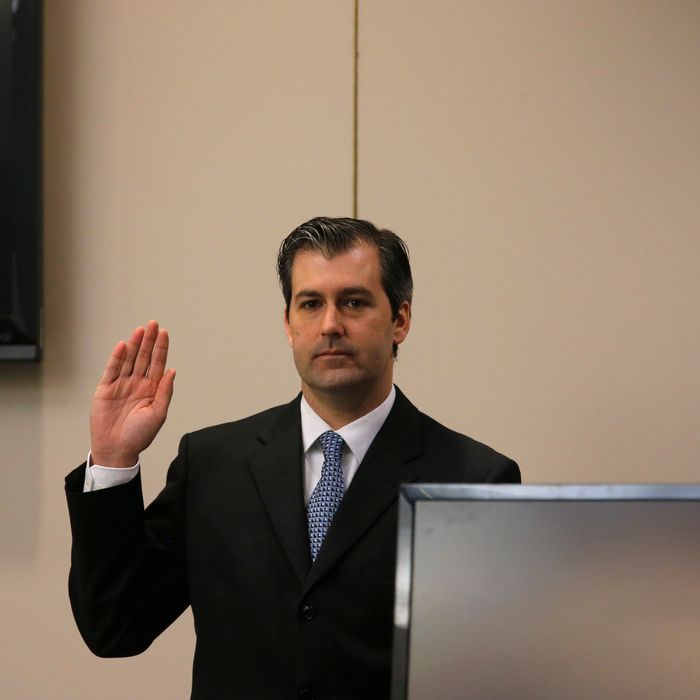 Michael Slager prepares to take the stand.
Photo: Pool/Getty Images
Michael Slager, the police officer who shot and killed Walter Scott, an unarmed black man, after a traffic stop last year, testified in his own murder trial on Tuesday. On the stand, Slager described the "total fear" he felt just before shooting Scott, but claimed that his memory of the encounter was hazy and failed to explain the multiple inconsistencies between his recollection and a video of the incident.
Stager became increasingly emotional during his testimony, at times seeming close to breaking down. "My family has been destroyed by this. The Scott family has been destroyed by this," he said. "It's horrible."
Looking back to that day, Slager, 35, recalled: "I see him with a Taser in his hand as I see him spinning around. That's the only thing I see: that Taser in his hand."
"I saw that Taser coming at me," he said. "I fired until the threat was stopped, like I'm trained to do."
Earlier in the trial, Feidin Santana — the bystander who filmed the interaction on his cell phone — testified that Scott, 50, did not in fact take the officer's Taser, nor did he spin around.
The video shows Slager firing at Scott's back eight times as he tries to flee, and then handcuffing him while he lies face-down on the ground. Later, Slager is seen dropping something that could be a Taser next to Scott's body.
Slager was fired and charged with murder after the cell phone footage came to light.
During his testimony, the former police officer admitted that he would do things differently if he could do it all again, saying, "Going back 18 months later and looking at everything, things could have been different." However, Slager still insisted that he feared he was going to be overpowered in a scuffle with Scott that he says occurred off-camera.
The prosecution, meanwhile, tried to portray the five-year law-enforcement veteran as a hothead who was quick to use unnecessary force, pointing out that he alone was responsible for about 4 percent of the total Taser use by the police force in North Charleston in 2014.
Closing arguments are planned for Wednesday. If found guilty, Slager faces life in prison.