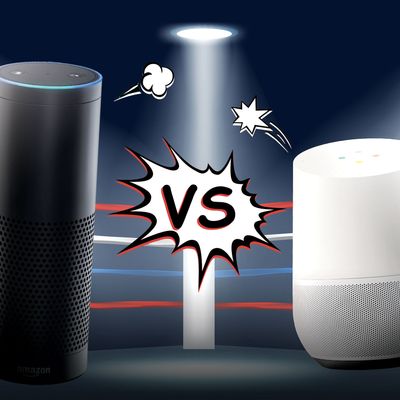 Photo-Illustration: Google, Amazon, Getty Images
Tomorrow, Google's first smart-home personal-assistant speaker, the Google Home, goes on sale. Is it good enough to dethrone Amazon's Echo speaker as the reigning "thereable"? Do you even actually want one of these devices in your house? Two Select All editors — both of whom have Echoes — have been using the Google Home in their, well, homes over the last week. Here's a rundown, followed by their conversation about the pros and cons.
Google Home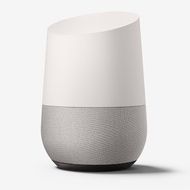 Pros: Dead simple to set up. Attractive design. Easily syncs with your Google Account, which has knock-on benefits (it'll know your daily commute schedule, for instance.) Fifty bucks less than the competition.
Cons: Audio isn't quite as good as the Echo. Can only sync one Google account — a problem for any household with more than one user. No ability as of yet for developers to add in new features.
Buy This One If: You haven't gotten an Amazon Echo yet, but are curious about home voice assistants. If you like your tech dead simple to set up and maintain. If you don't mind waiting a while for the rest of the smart-home ecosystem to catch up with the Google Home.
$129, available at Best Buy, Target, Walmart, and Google.

Amazon Echo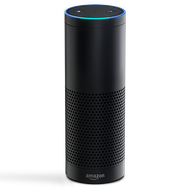 Pros: Great audio — hard to find a portable speaker with this much clarity and deep bass. Able to shop on Amazon with just your voice. Already syncs to a lot more smart-home devices than the Home. The Echo Dot is a cheap way to extend your Echo's range.
Cons: Voice recognition and ability to carry a conversation is plain stupider. Has over 6,000 apps you can install, but only through smartphone and about 80 percent are useless. Install process is more of a pain in the ass.
Buy This One If: You're already starting up your smart home, and you don't want to wait and see whether Google gets full buy-in from other smart-home manufacturers — or see your Echo turn into a mere cool party trick. If you have a large house and want to put Echo functionality everywhere. And if you want the best audio out of a voice assistant possible.
$179.99, available on Amazon. $49.99 for the Echo Dot, which adds Alexa functionality to any speaker.
Max Read: I should start off by admitting: I'm a sucker for smart-home tech. Or at least, as much as I can be as a renter. I have Amazon's flagship Alexa speaker, the Echo, in my dining room, and the add-on Echo Dot plugged in to my home theater in my living room. I've also installed Phillips Hue smart lightbulbs in most of my apartment's light fixtures, so I can control them all through Alexa, and last week I bought a Logitech Harmony Hub so I could use Alexa as a voice-activated TV remote. Not counting the cost of the therapy sessions that such an obsession clearly warrants, my "smart apartment" has set me back about $400. I'm not sure I'd say it's entirely worth it, but if you like laziness, convenience, small projects, and talking out loud when no one is around, that's a small price to pay for satisfaction.
Jake Swearingen: So, we've both been living with not one but two devices that passively record everything we say in our apartments. I've found myself talking to my Google Home a lot more, even if it's a little underpowered. The fact that it can fall back on Google's massive database of knowledge makes it more fun, and it can stay on topic which makes it fun to mess around with. I was able to do a four-minute conversation about my hometown of Tulsa, Oklahoma, including how long it would take me to drive there, what flights are available now to get there, who the current mayor is, how the local ball cub the Tulsa Drillers did, what the population of Tulsa is, and what the weather looks like for this weekend. And this was with me just consistently never using the word Tulsa except to start the conversation. So, like,"Who's the mayor there now" would let me know Dewey F. Bartlett Jr. currently holds power in Tulsa. (Which is also the perfect name for the mayor of Tulsa.)
Max: I agree: Google is a much better conversationalist than Alexa. And that matters, because, as I think we should admit, a lot of the appeal of gadgets like Home or Echo is the fun of, well, talking to your house. As far as novelty goes — that is, to the extent it can fool me into thinking my Brooklyn apartment is a spaceship — I think the Home is fantastic. But as you say, for it to rise from novelty to essential gadget, it needs to do a little bit more than tell me about Tulsa. Have you replaced any tasks, or made them more efficient? Or are you finding your Home mostly a novelty?
Jake: I think both the Home and Echo rise a bit above novelty, but only just. They've mainly replaced the wireless Bluetooth speakers we were starting to accumulate like broken umbrellas around the house. They're great for playing music or a podcast while I'm making dinner, and it's great that both have decent timers built in (though Home's ability to name the timer, so I can "set a timer for 15 minutes for potatoes" and "set a timer for 45 minutes for chicken" is more useful). I basically use both as a combo replacement for pulling out a smartphone and having a good speaker in the rooms where I tend to spend a lot of time — the kitchen and the dining room. But I'm also unlike you — I haven't really gone in on smart-home tech. So both stray closer to novelty than "must-have gadget" for someone without Phillips Hue lightbulbs all over the place.
Max: The truth is, I use my Echo — and found myself using the Google Home — for listening to music more than any other task. And if you have a Spotify account, using these speakers is a revelation for those of us who've spent a significant portion of our lives pairing and unpairing finicky Bluetooth speakers, and I think it's almost worth the purchase price for that alone. You just ask it to play what you want to hear — by song name, album name, artist, genre, or playlist — and it plays. Which one sounds better? I think I'd give the edge to the Echo, which is slightly larger and more clear. But for non-audiophile listening-around-the-house purposes, the Home suited me just fine. And the microphones are even better: Both speakers could hear me even from a room away, even when music was playing.
Jake: I played a "fun" game where I put the Home and the Echo in, like, the most distant corners of my 600-square-foot apartment to see if I could find some spot where they wouldn't respond. Pretty much the only place I couldn't get it to pick up my voice was when I put them in corners — I think both systems, the seven-mic array in the Echo and the two-mic 180-degree array in the Home, need to be placed somewhere relatively open to work at their best. But really it was spooky. I had the Home and Echo in my bathtub (don't judge) and was able to get both to activate from my kitchen. Both Amazon and Google have done tremendous jobs with the mics.
As far as audio goes, the Echo has it. I listened to opening bars of Kanye's "Love Lockdown" and Joy Division's "Atmosphere" side by side on both, and the Echo just has more toothsome bass sound. But that's niggling audiophile stuff. For a thing I'd bring out during a dinner party after I've managed to convince people to play Settlers of Catan? Both are great. But I think I'd feel a little less embarrassed about the Google Home. Sure it looks like an air freshener, but it overall just kinda blends in with the rest of my stuff. The Amazon Echo looks like something Darth Vader would use to vape. It's not a device meant to blend into your home décor.
Max: Yeah — I have to say, the Home almost feels like an Apple device. It's well-made, smartly packaged, and has intelligent physical controls — did you notice how you can play and pause music by tapping on the top surface, or turn the volume up and down by swiping on it? You're not constantly thinking about how you can hide it from sight, or, at least, from your more design-sensitive girlfriend. And the design considerations don't stop with the device itself: The app you use to control the Home is good-looking and intuitive, especially compared to Alexa's often baffling companion app. That ease of use alone makes the Google Home the gadget I'd buy my grandparents — thinking about walking them through the Alexa app set-up is giving me stress eczema. (Alexa, order me hydrocortisone!)
Jake: Yes, the Home is the clear winner here. You have to dive into settings with the Echo to figure out how to make Spotify the default music player (I had to Google it). With the Home, it's part of the set-up process itself — you spend five minutes on your phone app and you're off to the races. And while I appreciate the old-school mechanical volume knob on the Echo to control sound, the Home makes more sense in a touchscreen world.
There's also just the fact that Google Home understands a lot of different ways of phrasing stuff — "Okay, Google, play some jazz like Duke Ellington" works, while that same phrase seems to throw Alexa for a loop. I feel like with Alexa I often have to speak in command line structure — make sure each word is in its proper place, or it breaks. Like you said, the Home is the device I think my parents or grandparents could use without much IT help from me. But unlike the Home, if I were fully into the smart-home world, I might still go with the Echo — it supports a ton more standards out of the box than Home, and you can actually add "Skills" (Amazon's word for apps) at will to support more. The Google Home currently doesn't support that at all, though I've heard that functionality will be coming down the line soon. One other thing the Echo can do right now is let me buy stuff. Have you ever used it for that?
Max: Of all the embarrassing things I do with Alexa, this is probably the most embarrassing — when I tell people that I order deodorant over my talking speaker they look at me like I'm describing my porn habits — but it's also one of the most useful features. But as convenient as the ordering functionality is, it's not so essential as to make it a clear winner over the Google Home. In fact, it's hard to come up with a "killer" skill that would make me refuse to switch from one to another. Neither core, only-on-this-device feature — Alexa's ability to shop and Google's access to your search history — seem so essential compared to the core functionality shared by both: Playing music, turning on lights, and answering stupid questions about Tulsa. Am I wrong? Is there a particular Google or Alexa skill that makes one rise above the others? Or does the decision mostly come down to how well each one performs at tasks you care about?
Jake: First off: Those were not stupid questions about Tulsa.
Second: No, I don't think either has a clear edge that makes it an obvious choice above the other. Which really brings us to price. The Echo costs $179 for a base unit, plus $50 per Amazon Dot. If I lived in a larger house, I'd want a four Dots at least, so that brings it up to $379. The Google Home is $129, though if you want to expand the range it's another $129 Google Home. In Google's hardware demos, they showed three Google Homes in a midsize suburban home — which would mean $387 all in.
I think if you are all-in on a smart home, right now the Echo is the better buy, but I think the Google Home will catch up within, maximum, six months. Right now, if you haven't gotten an Echo and like the idea of a home-voice assistant that's easy to use and also syncs up nicely with your Google account, the Google Home is the way to go — especially at the $129 price point. (Alternately, if you have a decent plugged-in speaker and are on a budget, you could just buy a $50 Echo Dot and see how you like it.)
Though, it should be mentioned — the Home will only sync up with one Google account. I could see, unless Google changes this up, somehow creating a "home" Google account that combines the calendars of everyone in my family, because otherwise my wife would ask what's on the docket today and the Google Home would tell her "Figure out a way to write a Google Home Review," instead of her actual calendar day. Both come with drawbacks, but overall I think the Google Home comes closer to easily moving you into that Star Trek future I think we're both so enamored with. Overall, I came away really enjoying using the Google Home, and kinda annoyed with the Amazon Echo at several key points. You feel the same?
Max: I think I agree. I'm bought-in enough on Amazon's system that I'm probably not going to convert right now, and, as you say, I like having Alexa functionality in two rooms, thanks to the Echo Dot, without having to buy two entire Echoes. But between the attractive design, the ease of use, the price point, and my sense that Google is going to catch up to Alexa in functionality very quickly, if I was making my first plunge into smart-home assistant speakers, I'd buy the Home.