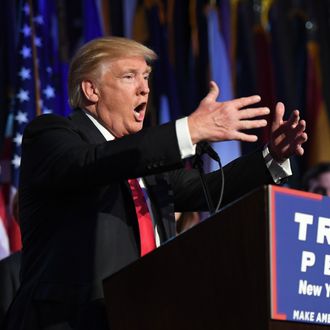 Photo: Jabin Botsford/The Washington Post/Getty Images
Donald Trump won the election last week, but he did not win the popular vote. For the fifth time in United States' history, the president-elect will take office despite the fact that more people in the country voted for his opponent. (As mail-in votes and absentee ballots are counted, the popular vote gap between Clinton and Trump only continues to widen.) But if you Google to find that out, the top hit tells a very different and factually incorrect story. Search "final election results" and the number one result is a fake-news piece from a WordPress blog called 70News proclaiming in all caps that Trump won both votes in the election.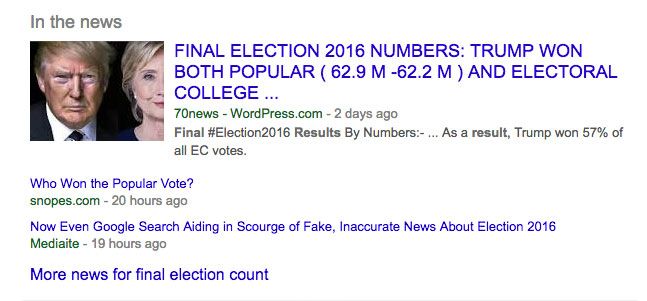 The piece itself offers up "final" tallies from the election — not possible given votes are still being counted — and explains "anyone asking where I got the figures, it was from Twitter posts." Specifically, a Twitter post sourced from a factually shaky at best website called USA Supreme.
The 70News post also cites older, now-incorrect numbers from Sunday from CNN, where Clinton is now leading Trump in the popular vote count.
Fake and hoax news has been a problem throughout this election cycle, though largely on Facebook, where social sharing and algorithmic recommendations have turned fake news into a small but booming business, and seem likely to have helped Donald Trump galvanize support. For its part, Google has largely managed to avoid the fake-news problem. Until today. A Google spokesperson says the company is looking into the problem; until then, might we recommended checking out the second search result, a Snopes debunking of the popular vote in the 2016 election.
Update 11/14/2016 5:11 pm: A Google representative provided the following statement to Select All:
The goal of Search is to provide the most relevant and useful results for our users. In this case we clearly didn't get it right, but we are continually working to improve our algorithms.