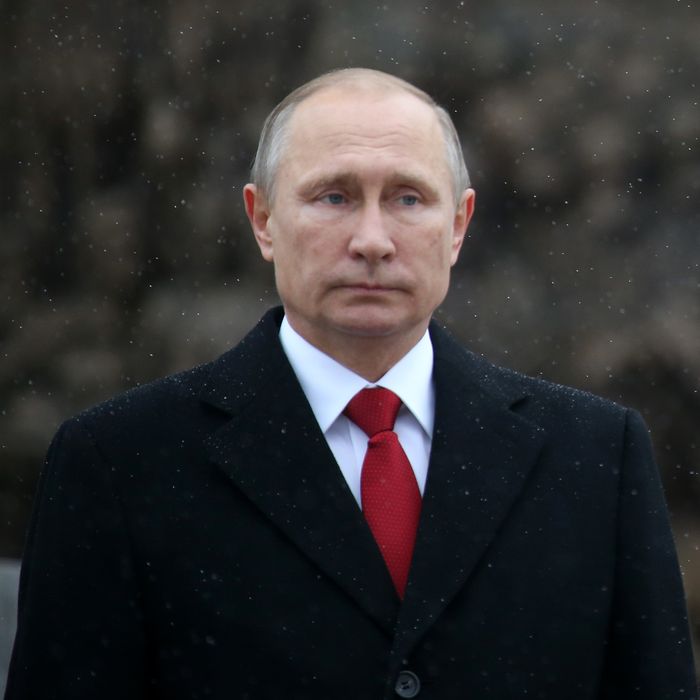 Spy out in the cold.
Photo: Mikhail Svetlov/Getty Images
Just as Donald Trump and Russian president Vladimir Putin's friendship was really starting to bloom, some trouble back home may complicate Trump's vision of a new era in U.S.-Russia relations. On Tuesday, Republican senator Lindsey Graham called on the Senate to open an investigation into Russia's reported interference into the presidential election.
"Assuming for a moment that we do believe that the Russian government was controlling outside organizations that hacked into our election, they should be punished," Graham said. "Putin should be punished."
During the election, American intelligence officials repeatedly voiced concerns that Russia was using cyberattacks — hacking the DNC and leaking emails damaging to Hillary Clinton, for example — to influence the outcome of the election.
Graham is no friend of Donald Trump and has often opposed him publicly, though he has said that he would support him fully as commander-in-chief. The senator's call represents an attack on Trump's policy positions, especially because the investigation that Graham has described would not be limited to the election, but would also include what he calls "Russia's misadventures throughout the world," even in places like Syria.
Graham already has some support for his investigation; here's what John McCain had to say about Putin:
With the U.S. presidential transition underway, Vladimir Putin has said in recent days that he wants to improve relations with the United States … We should place as much faith in such statements as any other made by a former KGB agent who has plunged his country into tyranny, murdered his political opponents, invaded his neighbors, threatened America's allies, and attempted to undermine America's elections.
They're going to ruin everything!