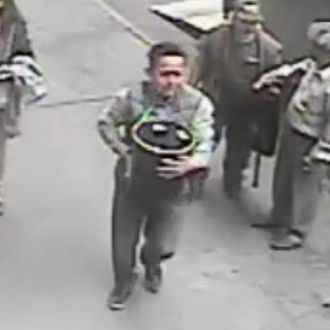 Magically ridiculous.
Photo: NYPD
The NYPD is on the hunt for a man who swiped a bucket of gold off of a truck in midtown back in September, and Wednesday morning it released video of the crime. The footage shows the crook, whom police believe to be a Hispanic male between 50 and 60 standing a leprechaun-like five-foot-six, casing an armored truck parked on 48th Street near Sixth Avenue. The man sees an opening when the truck's two guards are away and snags the five-gallon bucket off the back of the truck.
In the video he can be seen struggling to carry the bucket, which was on its way to a refining company in Ontario, and stopping for a moment to rest. There's a good reason for that. It weighed 86 pounds.
All told, the man, who police believe is now in Florida, walked a half-mile with the bucket. It took him an hour.