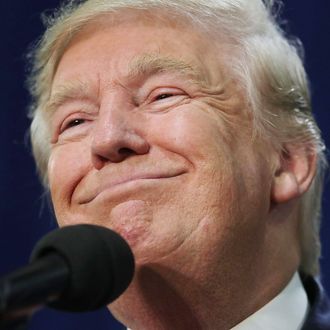 Photo: Chip Somodevilla/Getty Images
For those of you who've been breathlessly following the "will they won't they" drama between Mitt Romney and Donald Trump, sorry to disappoint: the wait continues. But President-elect Trump — after spending Thanksgiving in Mar-a-Lago with Fabio and Don King — has reportedly filled the roles of deputy national-security adviser and White House counsel.
First up: Kathleen Troia "KT" McFarland will serve as the deputy national-security adviser, likely working under Trump's choice for NSA director, retired Lieutenant General Michael Flynn. McFarland worked in national-security roles in the Nixon, Ford, and Reagan administrations. In 2006, she launched an ill-fated GOP Senate campaign for the New York seat (she was forced to drop out and did not get the Republican nomination, but she would have faced off against Clinton.) She has been a national-security analyst for Fox News.*
Trump's second pick of the day: Don McGahn for White House counsel. McGahn is a longtime Republican and former head of the Federal Elections Commission, whom The Wall Street Journal described in 2008, the first year of his tenure, as a guitar enthusiast who had "shown a willingness to cross party lines, and to join his critics." Nevertheless, he's been credited with weakening the agency and its campaign-finance regulations. McGahn, now a lawyer for the firm Jones Day, worked as counsel to Trump's presidential campaign, and should be the guy sorting through all of Trump's potential businesses conflicts — or at least advising him on how to avoid the appearance of such conflicts. McGahn said Friday he was "honored to continue advising President-elect Trump in the Trump-Pence administration. President-elect Trump is a bold leader committed to draining the swamp in Washington and restoring economic prosperity and security."
*This post has been updated to account for the fact that McFarland's contract with Fox News was terminated after her appointment was announced.