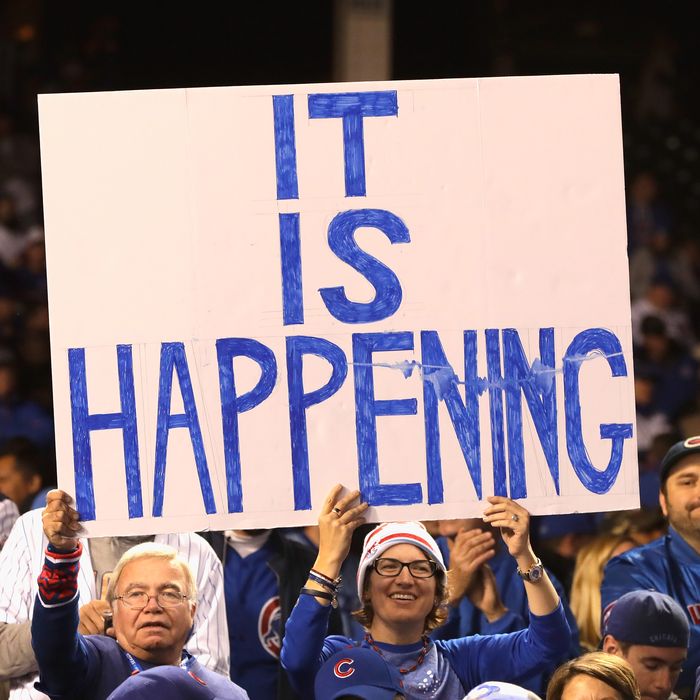 Well, maybe.
Photo: Jamie Squire/Getty Images
Under the bright lights of Progressive Field in downtown Cleveland tonight, one long-suffering baseball franchise will end its misery and another will force fans to question why they care so much about such a stupid game. The Cubs and Indians square off in game seven of the World Series tonight and history will be made.
It's common to frame big games like this as a matchup between two starting pitchers. While game seven features a tantalizing pairing — Cubs righty and NL ERA leader Kyle Hendricks versus Indians righty and likely AL Cy Young winner Corey Kluber — this postseason has seen relievers relied upon like never before, and tonight should be no different.
The Indians have the distinct advantage in the bullpen, and not just because manager Terry Francona trusts three different guys to go multiple innings. As much of a gut punch as Tuesday's 9-3 loss was for the Indians, it kept the team's top relievers out of the game. The Cubs' big lead could have allowed manager Joe Maddon to save his bullpen, too, but he chose to use closer Aroldis Chapman with a five-run lead. Chapman threw 20 pitches and appeared to hurt his ankle covering first. While Maddon says his closer is available for game seven, there's little doubt that he'd prefer a fresh Chapman with healthy ankles.
If the Cubs are hoping to build on Tuesday night's offensive onslaught, they'll have to do it against a pitcher who has already beaten them twice in the World Series. In his starts in game one and game four, Kluber pitched 12 innings while giving up one run and striking out 15. He'll be working on three days' rest tonight, rather than the typical four, which might help the Cubs. With one fewer day of rest, there's a chance Kluber's pitches won't dip and dart through the strike zone with their typical movement. It's not a very big chance, but if Cubs fans are searching for reasons to be optimistic, there's one.
Whatever the outcome, expect game seven to be a tense, grueling affair that stretches into the night as pitching changes and mound visits and replays extend the game into the early hours of tomorrow. Normally, that would be something to complain about. But this is game seven of the World Series, between the Cubs and Indians, and the last meaningful baseball game until next April. It will be worth staying up for.