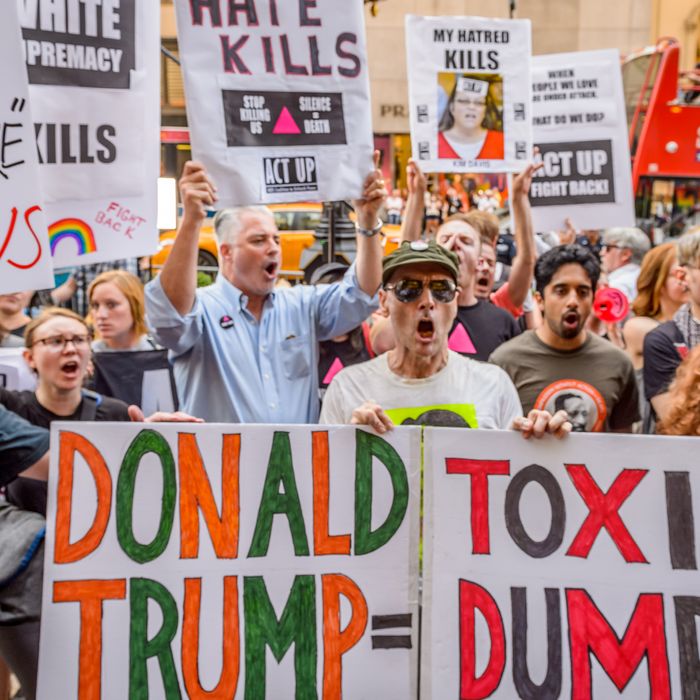 Getting ugly out there.
Photo: Pacific Press/LightRocket via Getty Images
Reports of hate crimes and other types of discrimination seem to be on the rise since last Tuesday's election.
Incidents of street harassment, threats, and vandalism have become increasingly commonplace with at least one expert saying that the reports are now even more widespread than in the aftermath of 9/11.
"Since the election, we've seen a big uptick in incidents of vandalism, threats, intimidation spurred by the rhetoric surrounding Mr. Trump's election," said Richard Cohen, president of the Southern Poverty Law Center (SPLC) in Montgomery, Alabama, to USA Today.
It's worth mentioning that many of the incidents that have been shared on social media have been shown to be fake, or at least to not have happened as they were described. Also, many of the hate crimes have taken place at middle and high schools — but, as a recent Reason article points out, their actions don't necessarily represent any kind of national racist uprising per se.
Reports of harassment and vandalism have come in from all over the country, including historically liberal enclaves like the San Francisco Bay Area. And incidents of bigotry and intimidation have also been reported on multiple college campuses. At the University of Pennsylvania, African-American students were added to a racist GroupMe chat — allegedly started by students at the University of Oklahoma — in which they were threatened with lynching.
Street harassment also appears to be surging. In one incident among many, a man forced a Muslim University of Michigan student to remove her hijab. He told her that if she didn't take off her headscarf he would light her on fire. She complied.
Both Buzzfeed and Time have compiled lists of reported hate crimes, which are growing by the day.
Trump's election has already had real-world consequences for many Americans, especially the country's most vulnerable. In a Gallup poll taken after the election, a full 42 percent of Americans said that they are afraid.