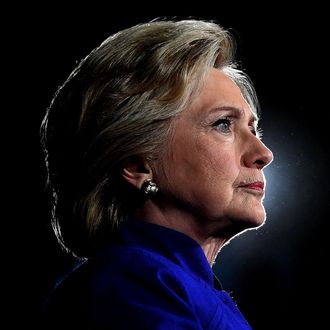 Photo: Jewel Samad/AFP/Getty Images
Even as Democrats nervously watch Donald Trump try to break through Hillary Clinton's "firewall" of states where she was leading handily until recently, an aroused Latino population may be winning one of the true battleground states, Nevada, with an impressive showing in early voting.

CNN, which published a poll earlier this week showing Trump with a commanding six-point lead in Nevada, reports today that Democrats have built "what could be an insurmountable edge" in early voting, which ended Friday night with a burst of heavy Latino voting in Clark County (Las Vegas). Democrats appear to have exceeded the early-voting edge they had in 2012, when Barack Obama carried Nevada by seven points. As veteran Nevada journalist Jon Ralston noted, early votes will probably represent two-thirds of the final vote, unless Republicans generate a crazy-high rural turnout.
David Wasserman of the Cook Political Report calculates that Trump would need to win Election Day voters in Nevada by a double-digit percentage margin to overcome Clinton's early-voting lead. Democrats actually led in Election Day voting in 2012. And Democrats should continue to have an advantage on Tuesday in get-out-the-vote resources, particularly with Harry Reid at the controls.
Retiring Senate Democratic Leader Reid has over the years put together a legendary organization, and it appears to be kicking out the jams this year in an effort to elect Clinton; Reid's designated Senate successor, Catherine Cortez Masto; and Democrats in two competitive House races. Democrats are also fighting to regain control of the state legislature, lost in 2014.
If Nevada really is out of Trump's reach, his Election Day math gets tricky. He'd definitely need not only to win the other "battleground" states like Florida and North Carolina, but also to win one of the larger or two of the "Clinton firewall" states as well. As Ralston suggests, Trump may have ultimately lost this contest by choosing to denounce Latino immigrants as drug-running rapists and murderers the day he announced his candidacy.