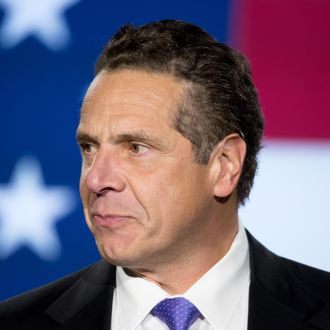 Photo: Noam Galai/FilmMagic
In a wide-ranging speech on Sunday morning, New York governor Andrew Cuomo addressed the recent spike in hate crimes reported since the election of Donald Trump. Cuomo also took the opportunity to introduce a new initiative intended to combat growing intolerance, including a new unit of the state police dedicated to investigating hate crimes.
Cuomo did not begin his speech on a very optimistic note:
I come to you this morning with a heavy heart. The ugly political discourse of the election did not end on Election Day. In many ways it has gotten worse, into a social crisis that now challenges our identity as a state and as a nation and our people. It goes beyond politics: it questions our American character — who we are and what we believe.
Speaking at the Abyssinian Baptist Church, a historically black congregation in Harlem, Cuomo also addressed President-elect Trump's promise to deport millions of immigrants when he takes office.
If there is a move to deport immigrants then I say start with me. I am a son of immigrants. Son of Mario Cuomo, who is the son of Andrea Cuomo, a poor, Italian immigrant who came to this country without a job, without money, or resources and he was here only for the promise of America.
New York has joined other cities, like Chicago and San Francisco, in vowing to remain a sanctuary city even though Trump has said that he will cut off federal funding to any municipalities that shield undocumented immigrants. In sanctuary cities, local law enforcement will not assist federal authorities in detaining and deporting undocumented immigrants.
The speech comes as hate crimes are on the rise all over the country. New York has not been immune; multiple instances of harassment and vandalism have been reported in the state since Trump's election.
As part of the state's new initiative, Cuomo said that he would move to expand New York's human-rights law in order to protect children in public and private schools from bullying and hate crimes at school, and he plans to inaugurate a new "public-private defense fund" to serve immigrants who can't afford legal assistance.
In his remarks, Cuomo said that he does understand the anger of the voters who support Trump, but warned of what forms their dissatisfaction has taken.
"This fear and this anger, misdirected, seeks an enemy — it seeks a target and that target has become people who we see as different than ourselves: people who look different, who have a different skin color, a different religion, a different sexuality and they have become a target for this anger," he said.