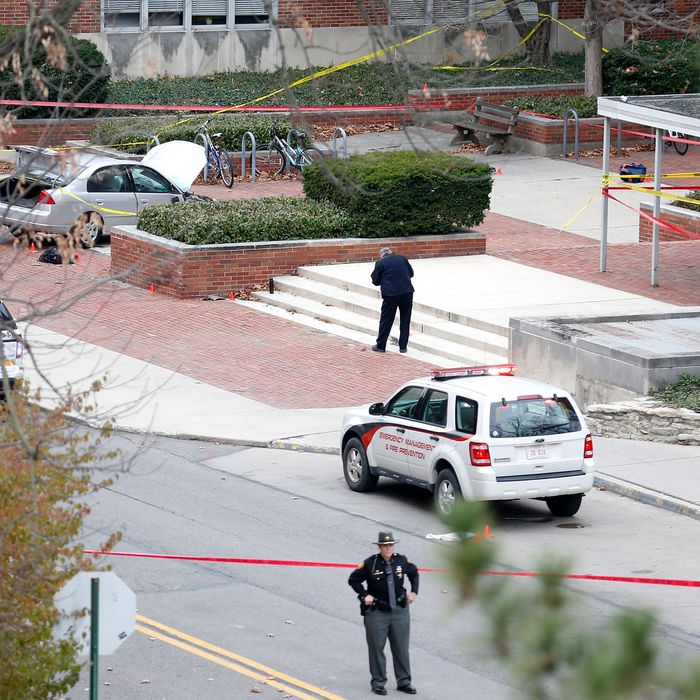 Police investigate the scene where an individual used a car to crash into a group of students outside of Watts Hall on the Ohio State University campus, on November 28, 2016, in Columbus, Ohio.
Photo: Kirk Irwin/Getty Images
The Islamic State's news wire blasted out a short message Tuesday, calling Ohio State University attacker Abdul Razak Ali Artan "a soldier of the Islamic State" who "carried out the operation in response to calls to target citizens of international coalition countries."
The terror group's statement mirrors those issued after similar "lone wolf"–style attacks, including a stabbing at a Minnesota mall in September and the San Bernardino shooting a year ago this week.
The FBI and local police are still investigating the OSU rampage as a potential terror attack, but have drawn no public conclusions on the motive so far. Artan, an OSU student of Somali descent who came to the U.S. as a refugee in 2014, injured 11 people after he plowed his car toward students and faculty and then tried to stab bystanders with a butcher knife. He was quickly shot and killed by campus police.
Artan did reportedly rant on his Facebook account prior to the attack, referencing "lone wolf" attacks and warning America to "stop interfering with other countries, especially Muslim Ummah."
Those messages do seem to indicate that Artan may have been "self-radicalized" — hooked in by jihadist propaganda on the internet, officials say. Investigators are still piecing together clues, but right now, there's no evidence that Artan had accomplices, or that he had any direct contact with ISIS or another terror organization overseas.
The open and ongoing investigation did not stop President-elect Donald Trump from tweeting about the incident, and the background of the attacker, who, again, came to the United States as a refugee. Trump offered his condolences Monday after the attack, but on Wednesday morning, seized on ISIS's claims to say that Artan "should not have been in our country."
The tweet echoes his campaign rhetoric about a potential Muslim ban, and his proposal to bar people from emigrating to the United States if they're from nations "compromised" by terrorism.