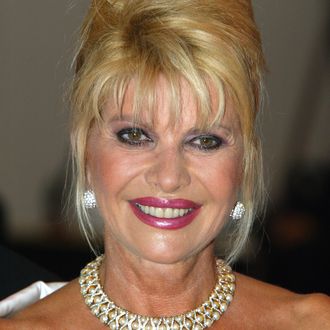 Government bound?
Photo: Stephane Cardinale/Corbis via Getty Images
In an interview in the New York Post on Sunday, President-elect Donald Trump's ex-wife Ivana Trump said that she would like to be appointed ambassador to the Czech Republic.
During the interview, Ivana boasted that she was "quite known all around the world."
"Not only in America," she added. "I have written three books, and they were translated in 40 countries in 25 languages. I'm known by the name Ivana. I really did not need the name Trump."
Ivana suggested that she could be ambassador for the Czech Republic, because that "is where I'm from and my language and everybody knows me."
Normally, it would be easy to dismiss a president's ex-wife claiming that she would make a good ambassador to a country on the grounds that she speaks the language, but this is a presidency in which the president's children are somehow allowed to stay on and manage his global business empire, so anything is possible.
Elsewhere in the interview, Ivana — who certainly knows Donald Trump's habits better than just about anybody — provided some insight into what a Trump presidency might look like.
First she reassured the nation's nervous interior-decorating enthusiasts by saying, "I don't think he's going to do gold leafing in the White House." But she did say that she doubted that Trump would be willing to truly leave his Trump Tower apartment and live in the White House full time.
Not that Ivana blames him. "To be perfectly honest," she said, "I think probably the Trump Tower and my townhouse in New York is much better than the White House."
Ivana also intimated that the commander-in-chief's busy travel schedule would be hell for the president-elect: "Donald is like a good French wine. He doesn't like to be moved and traveled. The last 18 months, he traveled as much as he ever has in his life. Thank God he has his private plane, but still, it was brutal."