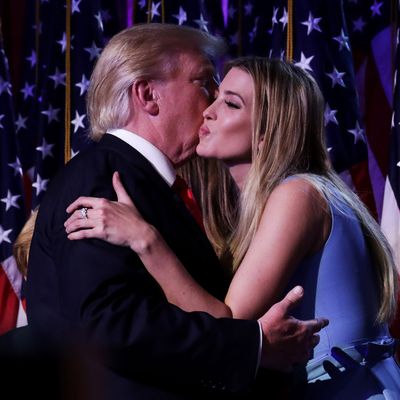 Photo: Chip Somodevilla/Getty Images
Ivanka Trump joined a recent phone call between her father and Argentine president Mauricio Macri, raising more questions about Donald Trump's ability to separate his business life from his new job. Macri revealed that he chatted with him in an interview published Monday by Japanese newspaper The Asahi Shimbun.
Q: What did you say to Trump in your (congratulatory) call to him?

A: We promised to establish the best bilateral relations ever. I hope that our good relations with the United States, seen under U.S. President Barack Obama, will continue and expand further under Trump. In the call, I also talked with his daughter. I have known her since her infant days.
This is the second known instance of Ivanka's sitting in on a discussion between the president-elect and a world leader. The other happened last Thursday when she was present for Trump's first face-to-face meeting with a foreign leader, Japanese prime minister Shinzō Abe. But Ivanka's presence on the call with Macri is a little different, given Trump's fight for approval to build a real-estate project in Buenos Aires.
Trump reportedly mentioned the project to Macri during their phone call, imploring him to help with the approvals, but spokespeople for both Trump and Macri denied that the project came up. According to the Guardian though, a member of Macri's staff was the source of information about the call.
At this point, it's hard to say what happened on the call. Except we now know that Ivanka was present for at least part of it. And despite her role on the Trump transition team, Ivanka and her two brothers are supposed to be left in charge of the Trump Organization while their father focuses on the presidency.
Only two weeks after the election, though, those lines have blurred, and the story out of Argentina illustrates just how tangled Trump's business and political dealings already are. According to a series of tweets from one watchful observer, Trump and his developers received approval to move forward on their Buenos Aires high-rise the day after his call with Macri. And the call, despite the previous relationship with Trump and Macri, had to be set up though the developers building the Argentine Trump Tower. Here's a wrap-up: