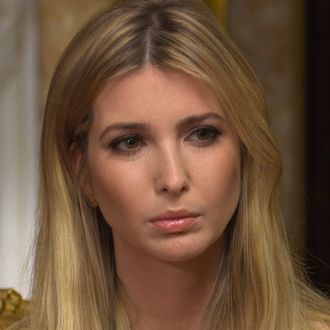 Photo: CBS Photo Archive/CBS via Getty Images
Donald Trump says we don't have to worry about conflicts of interest when he becomes president because his business will be put into a blind trust run by his three oldest children. No one knows what that means because that is not how a blind trust works, but on Thursday we got a preview. Ivanka Trump, who will be running her father's business in 62 days, sat in on his meeting with Japanese prime minister Shinzo Abe.
The president-elect has ignored protocol when it comes to the press, and we only know Ivanka was in the 90-minute meeting in Trump Tower because she appeared in a photo released by the Japanese cabinet public-relations office. Press pool reporters were given no access to the meeting; there wasn't even a brief session for photos and questions afterward.
BuzzFeed reports that another photo released by the Japanese government shows that Ivanka's husband, Jared Kushner — who is being considered for a White House job, though that may be illegal — was also in attendance.
Trump posted a single photo on Facebook that showed only the president-elect and the prime minister:
Trump alarmed Japan on the campaign trail by suggesting they are too reliant on the U.S. for military protection and that the country should get nuclear weapons to protect itself from North Korea. Abe did not reveal the details of his discussion with the Trumps, but he said after the meeting, "We were able to have a very candid talk over a substantial amount of time, and in a very warm atmosphere."
Hopefully everyone will remember that "warm atmosphere" the next time they discuss how to keep the world safe from North Korea — and when Ivanka wants to do business in Japan.