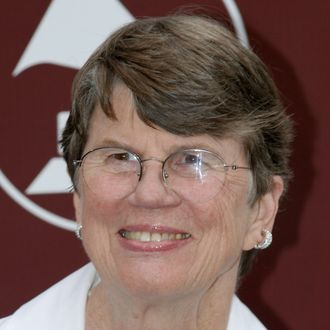 Janet Reno at the 2005 Grammy Awards.
Photo: Jon Kopaloff/FilmMagic
Janet Reno, a Florida prosecutor who became the first woman to serve as U.S. attorney general, died early on Monday at age 78.
She died from complications of Parkinson's disease, according to her goddaughter Gabrielle D'Alemberte, who said Reno spent her final days with family and friends in Miami. Reno was diagnosed with the disease in 1995.
Reno served as President Bill Clinton's attorney general from 1993 to 2001, holding the office longer than anyone else in the 20th century. She was at the center of some of the biggest controversies of the '90s, but was generally praised for her integrity and straightforward manner.
Reno oversaw the prosecutions related to the 1993 bombing of the World Trade Center and in the 1995 Oklahoma City bombing, laying the groundwork for future federal terrorism cases.
In 1993, she gave the order to storm the compound of the Branch Davidian compound near Waco, Texas, after leader David Koresh killed four federal officers. A fire broke out during the raid, killing all 80 people inside. Reno took full responsibility for the incident, and later called it the worst day of her life.
In 2000, she attempted to negotiate the return of 5-year-old Elián González to his father in Cuba, after his mother drowned as they attempted to reach the United States by boat. Gonzalez's relatives in Miami would not give him up, and the incident ended with the boy being seized by an agent carrying a gun. "We have been to great lengths to resolve this case in the least disruptive manner possible," Reno said after the incident.
"She was a very powerful force for lawfulness," Walter Dellinger III, a Duke University law professor who served as solicitor general during Reno's time in office, told the Washington Post. "She was always challenging to make sure there was a sound legal basis for what people were doing. And she was adamant about separating the department from politics."
However, Reno still became involved in some of the scandals of the Clinton administration. She was criticized for refusing to launch an independent investigation into whether Vice-President Al Gore illegally fundraised from the White House during the 1996 presidential campaign. She also allowed the Whitewater investigation to expand to include Bill Clinton's affair with Monica Lewinsky. Reno has said that Hillary Clinton never forgave her.
After leaving office, Reno made an unsuccessful run for Florida governor in 2002. Democratic officials backed Tampa attorney Bill McBride over Reno, and she lost the primary. McBride was then defeated by Republican Jeb Bush.
After the loss, Reno retired from politics, but she served on the board of the Innocence Project, which works to clear wrongly convicted people using DNA evidence. "I've had a thoroughly good time," she said of her career in 1998. "I have the opportunity to serve my country and it's been extraordinary, and if I go home, I go home."