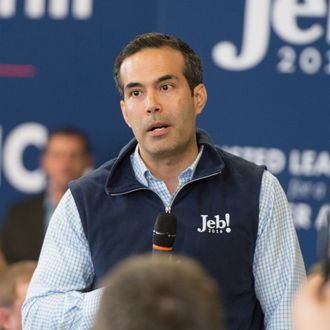 Trump has the support of one in three famous people named George Bush.
Photo: Congressional Quarterly/CQ-Roll Call
What a difference four years makes. Back in 2012, many were convinced that the 2016 election would be a battle between Hillary Clinton and Jeb Bush. Instead, America's interest in the Bush family in recent months has mainly focused on whether they're voting for Clinton or Donald Trump, the man who destroyed their political dynasty.
George P. Bush, Jeb Bush's son, appeared to drop a bombshell in the saddest GOP parlor game on Tuesday night, revealing at a rally in San Marcos, Texas, that he's the only member of the family voting straight-ticket Republican. He mentioned that his grandfather and uncle, the two former presidents, could "potentially" vote for Clinton.
Later, when questioned by the Associated Press, the Texas land commissioner walked back his remarks on H.W. and W.'s presidential preferences. "I don't know how they voted. I'm speculating, to be honest," he said. He was similarly evasive on whether they'd vote for Clinton, saying, "Potentially. But hard to speculate."
While George W. Bush stuck with his policy on abstaining from the 2016 election entirely, we actually have a decent idea of how the rest of the Bush clan is voting. A Kennedy claimed that George H.W. Bush privately admitted he's "with her" in September. A few days later Jeb Bush denied a report that he privately said he'd vote for Libertarian Gary Johnson, but confirmed, "I'm going to vote and I've made it clear I'm not going to vote for Donald Trump or Hillary Clinton." Former First Lady Barbara Bush said, "I don't know how women can vote for someone who said what he said about Megyn Kelly."
We even know that a number of lesser-known Bushes are Never Trump. The younger Barbara Bush, W.'s daughter, was photographed at a Hillary Clinton fundraiser. Her cousin, the former model Lauren Bush Lauren, announced she's pro-Hillary on social media. Over the summer, Marvin Bush, brother of Jeb and W., said he's voting Johnson.
It's like the entire Bush clan is willing to betray their political party just because they think Trump is a terrible nominee, and he spent months relentlessly attacking various members of their family. At least George P. still has some principles.