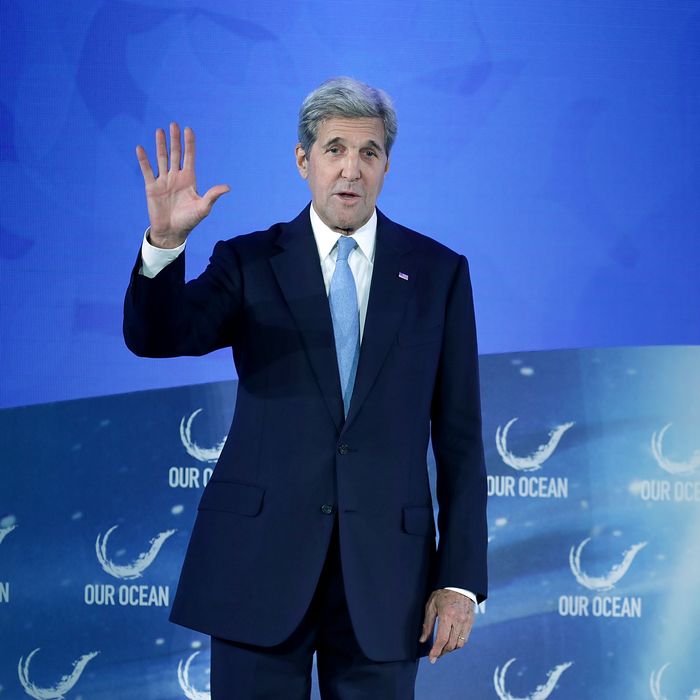 All yours.
Photo: Chip Somodevilla/Getty Images
Speaking in Christchurch, New Zealand, on Thursday, Secretary of State John Kerry said that he has instructed the State Department to work with President-elect Donald Trump.
"And we will do everything in our power, as I have instructed our team, to work with the incoming administration as fully and openly as possible, to be as helpful as possible," he told the gathered reporters, "so that the transfer of power will be as smooth as it possibly can without missing a beat on the important issues before us."
"One of the beautiful things of democracy, and we particularly pride ourselves in the United States, is that we have this amazing peaceful transfer of power," he explained while standing in another democracy with hundreds of years of peaceful transfers of power.
Kerry's words were just the latest in a series of statements from government officials looking to assure Americans that there will be a peaceful transition. Earlier in the day, White House press secretary Josh Earnest confirmed that President Obama has directed that the Presidents Daily Briefings — known as "the book" — be made available to Trump, to the vice-president-elect, Mike Pence, and to Trump's advisers.
Security officials also confirmed that they would begin giving Trump top-secret security briefings within a matter of days.
While Trump and his inner circle were given two general briefings on national threats and foreign-policy concerns after he secured the nomination, that briefing did not contain any information about ongoing secret operations being conducted by the United States. These new briefings will be the same as what President Obama now receives and will contain information on all of the country's covert operations, foreign and domestic.
"I have seen the transformation that occurs when candidates become presidents and realize the awesome responsibility that rests on them," John McLaughlin, a former deputy director of the CIA, told Reuters. "We can only hope it happens again."