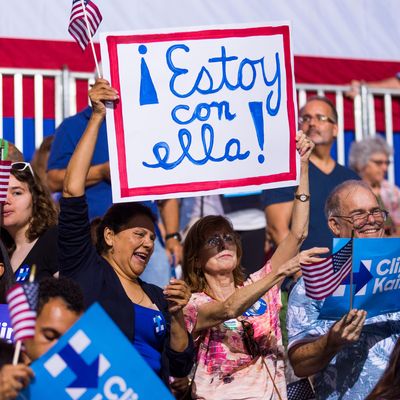 Photo: Brooks Kraft/Getty Images
Donald Trump has never been this close to becoming president. Since the final debate, Republican voters have slowly but surely forgotten about that whole "grab 'em by the pussy" thing, and rallied behind their party's nominee. James Comey's decision to green-light a sequel to the Hillary Clinton email saga seems to have pushed a few of her most casual supporters back into the undecided column.
These developments have whittled the Democratic nominee's national polling advantage down to a little under 3 points, according to RealClearPolitics and FiveThirtyEight. The latter site argues that Clinton's victory is less certain than Obama's was four years ago, due to a structural advantage Donald Trump enjoys in the Electoral College, which is itself due to the relative abundance of white voters without college degrees in purple states.
And on Thursday, two polls showed Clinton and Trump statistically tied in New Hampshire, a state that had long been considered a brick in the "firewall" that would cut off any hope of Trump reaching 270.
Still, there are a couple of reasons to think the race isn't as close as it appears to be. For one thing, none of the forecasting models account for the fact that Trump has put fewer resources into voter-turnout operations than any major-party nominee in recent memory, while Clinton has the best George Soros and Tom Steyer can buy.

For another, Latino voters are chronically underpolled, due, in part, to the challenges of reaching American citizens who are primarily Spanish speaking. Unexpectedly high Hispanic turnout, particularly in western states, has spurred a number of electoral upsets in recent years, among them Harry Reid's surprise victory in Nevada in 2010.
And early-voting totals suggest that this flaw in public polling could prove more relevant this year than ever before. Earlier this year, news of a spike in Hispanic voter registration bubbled up into the headlines. The early returns from swing states seem to validate those reports. Per the Washington Post:
In Arizona, Latinos represented 13.2 percent of all early voters as of Tuesday, up from 11 percent at the same point in 2012 and 8.1 percent in 2008, according to Catalist, a firm that works with Democrats and progressive groups.

In Nevada, Latinos make up 11.8 percent of early voters so far, compared with 10.5 percent in 2012 and 9.1 percent in 2008. And in Florida, they accounted for 14.1 percent of all returned ballots as of Tuesday, up from 9.6 percent at the same point in 2008.
The Clinton campaign claims it's also seen an uptick in Latino participation in states where the demographic represents a smaller portion of the population, such as North Carolina and Ohio.
It's possible that the Clinton campaign's early-voting operation is just depleting its Election Day total — that the increase documented above isn't the result of more Latinos voting, but merely more Latinos opting to vote early.
Still, if the current rate of Hispanic turnout does remain consistent through next Tuesday, the election could very well end up the opposite of close.