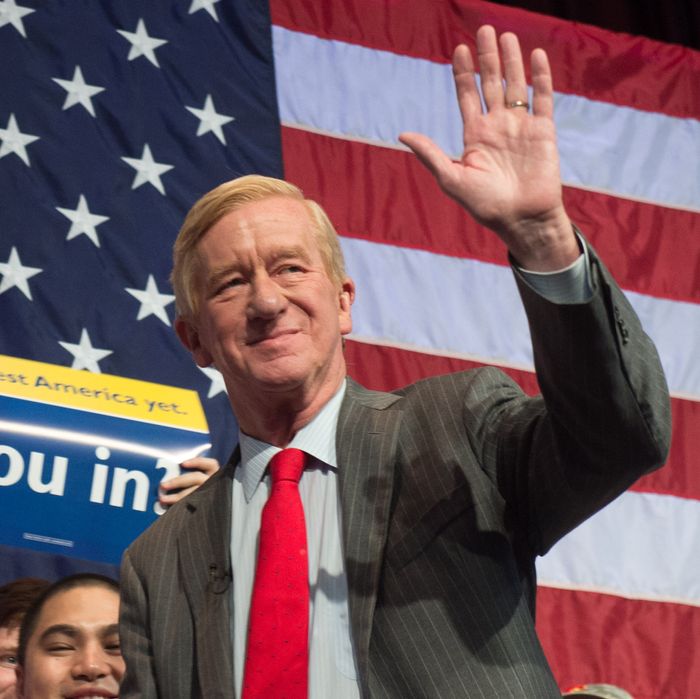 Johnson can rest assured that he's definitely not Weld's last choice for president.
Photo: BRYAN R. SMITH/AFP/Getty Images
Libertarian vice-presidential nominee Bill Weld says he thinks running mate Gary Johnson would make a good president, and he still has campaign events scheduled through Election Day. But with just one week to go in the election, he's devoting an awful lot of time to explaining why voters should support Hillary Clinton over Donald Trump.
Tuesday night on The Rachel Maddow Show, the former Republican governor of Massachusetts gave his most pro-Clinton interview yet, saying, "I'm here vouching for Mrs. Clinton, and I think it's high time somebody did."
Even some Trump supporters have come to Clinton's defense in recent days, but Weld's comments weren't merely a criticism of FBI director James Comey. Weld began the interview by acknowledging that "in the real world" all the Libertarian ticket can hope for at this point is to improve the party's standing in future races by getting 5 percent of the vote.
When asked why a person in a swing state should use their vote to help the Libertarian Party rather than saving the country from the imminent threat of President Trump, Weld offered no justification for voting Johnson-Weld — but he made a passionate case for voting for Clinton:
Well, the person could very well decide not to do that. And for someone deciding not to do that I have a lot to say about Mrs. Clinton that has not been said by others and I think needs to be said. I've known her for 40 years. I know her well personally. I know her well professionally. I know her to be a person of high moral character, a reliable person, and an honest person, however so much Mr. Trump may rant and rave to the contrary. So I'm happy to say that. And people can make their own choices.
Many Libertarians have been wary of Weld throughout the campaign, and he's been praising his Democratic opponent for weeks. In September he said he doesn't think anyone is "more qualified than Hillary Clinton to be president of the United States." Then, on the night of the vice-presidential debate, Weld told the Boston Globe that he would devote his "full attention" to making sure Trump does not become president.
Weld pushed back against the assertion that he was essentially saying his new focus was making sure Clinton beats Trump. But in recent days he's made a number of moves that were seen as more pro-Clinton than pro-Johnson. Tuesday on Morning Joe, Weld read a passage from 1984 and compared Trump to Big Brother:
When asked whom he's voting for — a question no one feels the need to ask Tim Kaine or Mike Pence — Weld responded, "I'll vote for my own ticket, but I think the most important thing for the country is Donald Trump not being elected president."
Last week Weld shared a statement aimed at "those in the electorate who remain torn between two so-called major party candidates" during a Boston press conference. Weld said he believes Trump "would not be able to stand up to this pressure and this criticism without becoming unhinged and unable to perform competently the duties of his office." The statement said nothing about Clinton, and some interpreted the conclusion as an oblique criticism of Johnson:
In the final days of this very close race, every citizen must be aware of the power and responsibility of each individual vote. This is not the time to cast a jocular or feel-good vote for a man whom you may have briefly found entertaining. Donald Trump should not, cannot, and must not be elected President of the United States.
The Libertarian campaign responded by accusing "sensationalists and wishful thinkers" of "re-writing Governor Weld's forceful condemnation of Donald Trump into a suggestion that voters should support Hillary Clinton. That is absurd."
However, during the Maddow interview, Weld said the campaign isn't necessarily speaking for him. When asked about a campaign statement attacking Clinton in the wake of the FBI announcement, Weld said, "Gary and I have not agreed on a number of substantive issues in this campaign … I do not agree with that release."
Weld mentioned that while he and Johnson "keep in touch," they're usually campaigning on opposite sides of the country these days. That's probably for the best.