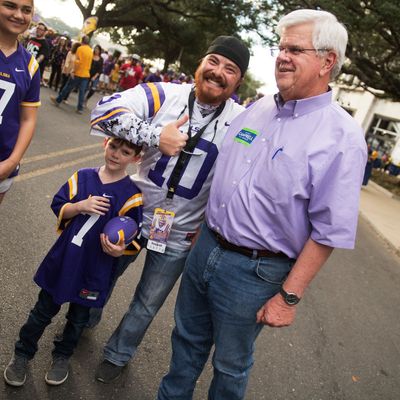 Louisiana Democratic Senate candidate Foster Campbell has the chance to become the first symbol of a backlash to Donald Trump's election as president.
Photo: Tom Williams/CQ-Roll Call,Inc.
Ever since it adopted a "jungle primary" election system in 1977, Louisiana has represented something of an after-hours bar for political junkies. Because it holds the first round of its nonpartisan congressional and other down-ballot primaries on the same day as the general election for everyone else, more often than not the Pelican State holds runoff elections in December. That is true this year; indeed, there is an open U.S. Senate seat at stake on December 10. So it is a last chance for campaign workers to get a 2016 paycheck, and a convenient dumping ground for any excess money the party committees, super-PACs, and other donors might have sitting around.
Speaking of money, all the smart bets are on Republicans holding on to the seat of retiring U.S. senator David Vitter. State Treasurer John Kennedy ran first on November 8 with 25 percent in a very crowded field of two dozen candidates, including, most famously, Trump fanboy and white racist icon David Duke. Democratic public-service commissioner Foster Campbell finished second with just under 18 percent. If you add up the total vote for Republican and Democratic candidates, the GOP was up 61-39, and since there are no big Republican Party splits in Louisiana at the moment, Kennedy should clean up, especially given the usual GOP advantage in low-turnout runoff elections.
But it has only been a year since a Democrat broke the mold by winning a gubernatorial runoff in Louisiana, and Governor John Bel Edwards is backing Campbell. That may have been more a testament to the weaknesses of Edwards's opponent (the same David Vitter now leaving the Senate) and to the broken (and broke) state in which his predecessor Bobby Jindal left Louisiana. At the end of a year like 2016, though, there's a sense anything could happen.
Indeed, Campbell's long-shot chances probably depend on a national Democratic effort spurred by the realization that this is the last chance to protest what happened on November 8, and the first opportunity to build a backlash against a Trump administration that will (they hope) culminate in an unusual Democratic midterm victory. As Jonathan Bernstein put it:
Even if Democrats lose, however, a surprisingly close result would help them make the case that Trump's victory was hardly a result of the overwhelming approval of the voters. Of course, part of that is that he'll wind up losing the popular vote by some 2 million or more. But a story out of Louisiana about Republican weakness would reinforce the case that Trump isn't very popular, just as the Republican victory in a Massachusetts Senate election in January 2010 hurt Barack Obama's ability to convince anyone of his own popularity.
And let's get used to it: Precisely because the prospect of a President Donald Trump still seems so outlandish, every election in the country up to and including the 2018 midterms is going to be viewed, fairly or not, as in part a referendum on the mogul's administration and his congressional allies.
Next thing you know, we'll be in an off-year political calendar that features gubernatorial elections in Virginia and New Jersey. Virginia, with its proximity to Washington, is a classic setup for a "Trump backlash" story line; the narrow 2013 win by Terry McAuliffe (who cannot run for reelection) broke an incredible string of nine straight gubernatorial elections lost by the party controlling the White House. But likely Democratic nominee Lieutenant Governor Ralph Northam will face a tough race made tougher by the fact that Senator Tim Kaine's failure to become vice-president means Democrats won't be able to mobilize turnout with a combined gubernatorial-Senate campaign, as they had hoped. Meanwhile, the GOP front-runner, Ed Gillespie, is still feeding off the momentum he built in 2014 in nearly upsetting Senator Mark Warner, but will have a multi-candidate nomination contest to negotiate, one that includes Congressman Rob Wittman and Trump's former state director, Corey Stevens. Anything could happen.
Meanwhile, up I-95 from Virginia, New Jersey will hold an election to replace the term-limited and very unpopular Republican governor Chris Christie. The latest dynamic is Christie's rapidly fading prospects for high office in a Trump administration. After November 8, Garden State Republicans had hoped Christie would soon be gone, letting his party clear the air of his unsavory aroma and evening the odds somewhat for 2017. The race won't really take shape until Christie's status becomes clear, but you have to figure Democrats have an advantage in this state that Hillary Clinton won by double digits.
In America, the next election campaign is never more than a few weeks away.