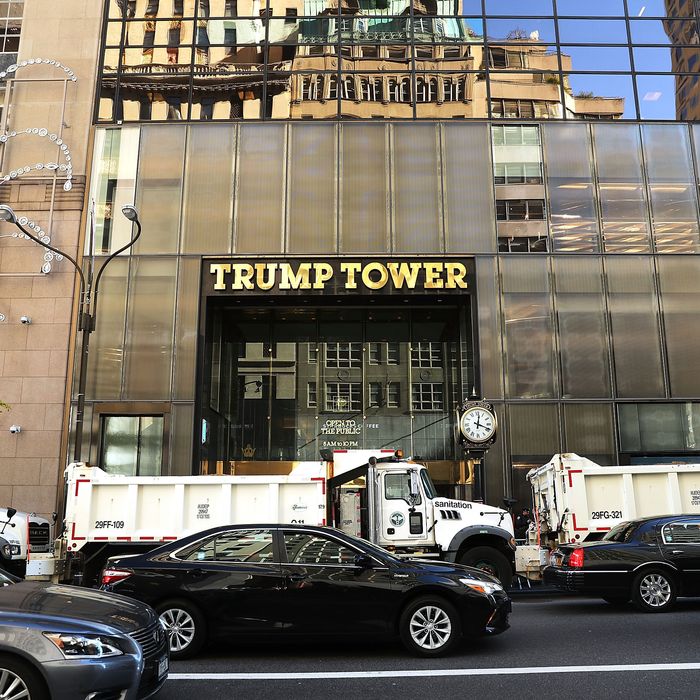 The scene.
Photo: Spencer Platt/Getty Images
Mayor Bill de Blasio spent an hour at Trump Tower on Wednesday explaining to the president-elect why so many New Yorkers are terrified of what he might do when he officially takes office. To name a few: deporting immigrants, deregulating the banks, slashing taxes for the wealthy.
"I expressed to him how much fear there is," the mayor told a pack of reporters outside the condominium. "It is all over this city. We need to give people more assurance that all Americans will be respected." He wouldn't comment on Trump's reactions, except to say the billionaire's basic philosophy hasn't changed.
The mayor's tone was terse and a little downcast. He said he also brought up the treatment of Muslims and informed Trump that the NYPD has 900 Muslim officers. He repeated his pledge that the city will never bring back the practice of stop-and-frisk, even though Trump has said he wants to expand its use.
Earlier this week, the mayor encouraged New Yorkers to continue protesting Trump, in the hopes that more peaceful "disruption" will help apply healthy pressure. However, he pledged on Wednesday to work with Trump on the issues of job-creation and infrastructure, and he said he'd left open the prospect of further dialogue.