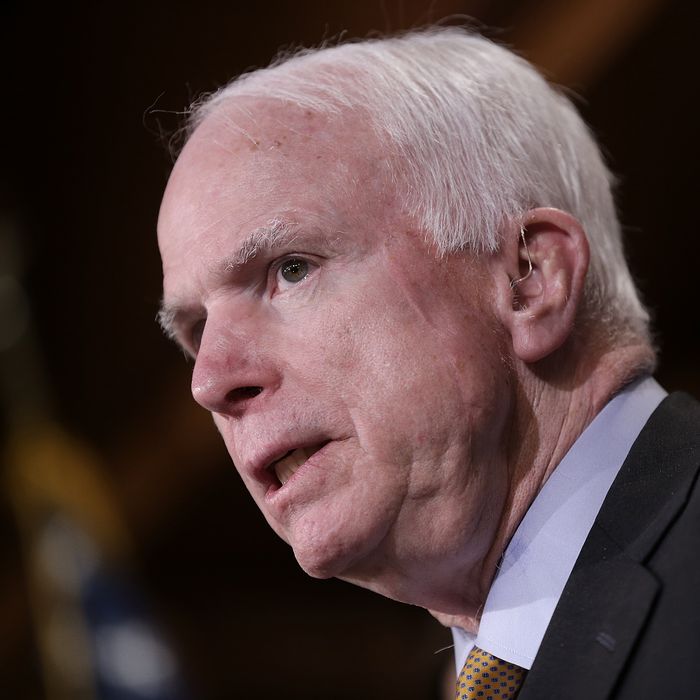 McCain might provide some GOP resistance to Trump, on one issue, at least.
Photo: Win McNamee/Getty Images
Senator John McCain, a torture survivor from his five years as a prisoner of war in Vietnam, told a security conference on Saturday that the U.S. will not resume the practice of torturing prisoners for information, despite President-elect Donald Trump's campaign promises to do so.
Answering a question at the Halifax International Security Forum about what powers Congress has to prevent a president from allowing waterboarding, McCain got agitated and noted that waterboarding and other forms of torture now violate both the Geneva Convention and U.S. law:
If [any agency of government] started waterboarding, I swear to you, there's a whole bunch of us that would have them in court in a New York minute. And there's no judge in America that wouldn't say they're in violation of the law because it's specifically, in law, now prohibited. So I don't give a damn what the president of the United States wants to do, or anybody else wants to do, we will not waterboard, we will not torture, we will not torture people … it doesn't work, my friends, it doesn't work.
The audience broke into applause when McCain got to the "we will not torture" part, and he later added, "My God, what does it say about America if we're going to inflict torture on people," before declaring that the practice invalidates America's moral superiority in the world, at which point the crowd applauded again.
Senator McCain, though he ultimately supported Donald Trump after the businessman won the GOP nomination, opposed the candidate during the Republican primaries, complaining that Trump was "firing up the crazies" with his anti-immigration rhetoric. Trump infamously ridiculed McCain for being captured during the Vietnam War and said the Arizona senator was not a war hero because of it.
Trump was roundly criticized over his comments, but as with virtually all the false or offensive things Trump said over the course of his presidential campaign, the attack on McCain had no decisive impact — including, ultimately, on McCain's willingness to support Trump as the GOP nominee. (McCain later withdrew his support for Trump in October, following the release of an Access Hollywood tape in which Trump bragged about sexually assaulting women.)
During his presidential campaign, Trump repeatedly endorsed the use of torture and falsely insisted that it was an effective way to obtain information. Trump's nominee for national-security adviser, General Michael Flynn, believes that waterboarding is a technique that should be available to U.S. interrogators; and Trump's nominee to head the CIA, Congressman Mike Pompeo, has defended and celebrated members of the agency who tortured prisoners. In addition, Trump's pick for attorney general, Alabama senator Jeff Sessions, is one of 21 Republican lawmakers who voted against a 2015 amendment banning the use of torture, repeating a similar vote he made in 2005.
When asked to respond to McCain's comments on Face the Nation, Vice-President-elect Mike Pence did not rule out the possibility that waterboarding will be reinstated under the Trump administration. "What I can tell you is that going forward, as he outlined in that famous speech in Ohio, is that a President Donald Trump is going to focus on confronting and defeating radical Islamic terrorism as a threat to this country," Pence said. "We're going to have a president again who will never say what we'll never do."
This post was updated to include Mike Pence's response.