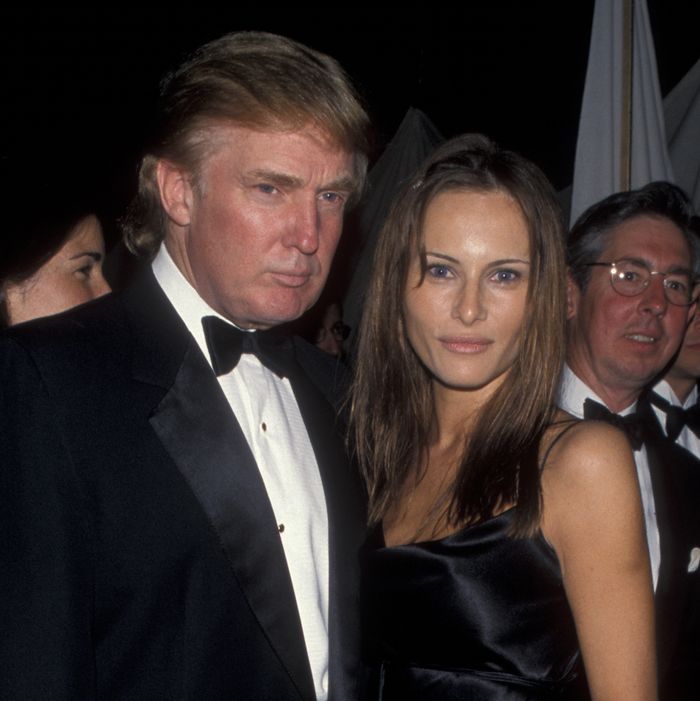 Donald Trump and Melania Knauss in October 1998.
Photo: Ron Galella/WireImage
People who live in glass houses shouldn't base their entire presidential campaign on throwing out undocumented immigrants. The Associated Press reports that during her first seven weeks in the United States, Melania Trump was paid for ten modeling jobs worth $20,056, though she was not legally permitted to work in the country.
Questions about Melania's immigration status arose in August, and she responded with a statement saying she has been "at all times in compliance with the immigration laws of this country."
Her attorney said she came to the U.S. from Slovenia on August 27, 1996, on a B1/B2 visitor visa, then obtained an H-1B work visa on October 18, 1996.
Documents unearthed by the AP show that Melania was paid for ten modeling jobs between September 10 and October 15, for clients such as Bergdorf Goodman and Fitness magazine. That work violates the terms of the B1/B2 visitor visa.
The AP said it has been searching for files from the now-defunct modeling firm Metropolitan International Management since Melania Trump's comments about her immigration status in August. The documents, which include ledgers and a management agreement signed by Trump, were recently found in storage and verified by a former partner at the firm and a former employee.
When asked to comment, Trump's immigration attorney offered a confusing denial. Per the AP:
A New York immigration lawyer whom Mrs. Trump asked to review her immigration documents, Michael J. Wildes, also reviewed some of the ledgers at AP's request. Wildes said in a brief statement that "these documents, which have not been verified, do not reflect our records including corresponding passport stamps." He did not elaborate or answer additional questions asking for clarification. Wilde appeared to be referring to Mrs. Trump's arrival in the United States on Aug. 27, 1996, one day after the ledgers list a charge for car service to pick up Mrs. Trump from the airport. Trump campaign spokeswoman Hope Hicks also did not answer additional written questions from the AP.
While the story is a potentially embarrassing distraction for Trump just days before the election, Melania is not in any legal trouble. She received a green card in March 2001 and became a U.S. citizen in 2006. The U.S. government could revoke an immigrant's U.S. citizenship if the government discovered that the applicant lied during the naturalization process, but that only happens in the most egregious cases. Our immigration laws aren't that extreme (yet).