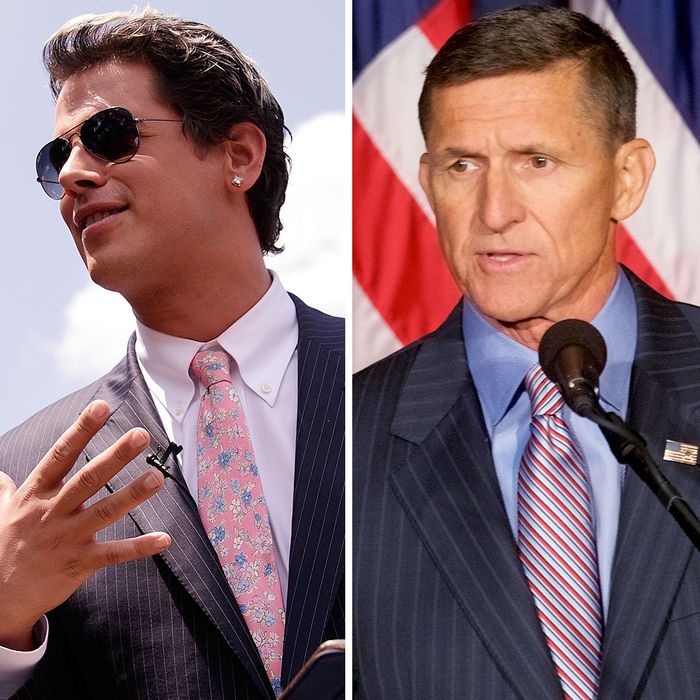 Ever since Donald Trump picked retired Lieutenant General Michael Flynn as his national security adviser, critics of the move have pointed out that Flynn, based on his Twitter account and speeches, seems to live in a twilight zone of conspiracy theories. Many of them involve Islam — as CNN's Andrew Kaczynski and Nathan McDermott reported last week, Flynn has regularly pushed gonzo conspiracy theories about alleged Muslim plots.
At one point, for example, "Flynn falsely claimed that Florida Democrats voted to impose Islamic Shariah law at the state and local level." He has also claimed, in a recent book he co-authored, that radical Islamists have built a global anti-American alliance including "North Korea, Russia, China, Cuba and Venezuela." He isn't just suspicious of Muslims; in June he also retweeted a tweet which read, in part, "Not anymore, Jews. Not anymore" — an apparent reference, in context, to pernicious Jewish influence over CNN.

In light of all this, it's probably no surprise that Flynn is a big fan of Milo Yiannopoulos, Breitbart's tech editor. As Kaczynski writes in a CNN article posted today:
Speaking to a gathering of young conservatives at Trump's Washington hotel [a week after the election], Flynn said, "I was with Dinesh D'Souza last night, and the other, for the young audience here, for the young ones here, I mentioned it to a couple of you, I was also with Milo Yiannopoulos," Flynn said at the Young America's Foundation conference. "See, a lot of people in here won't know who he is. I tag him on Twitter, you know, because he's phenomenal individual, and I'm mentioning him tonight because he spoke alongside of me last night to another group of folks."

"He's definitely, he's one of the most different, one of the most brave people that I've ever met. We have different views on different things, but he is deeply, deeply conservative in his views about this country," the retired Army lieutenant general added. "So he is going around this country at the undergraduates, at our colleges and our universities and he fighting for you, for all of the people in here."
Yiannopoulos, a failed London tech entrepreneur who once attempted to extort a former employee who asked for wages Yiannopoulos refused to pay until he was sued, has built a successful career out of getting progressives to react angrily to his outrageous statements, and by getting what appears to be a largely young and male audience of fans to cheer him on for fighting "political correctness."

Naturally, many of Yiannopoulos's most offensive statements have involved Muslims: He has referred to "hordes of young Muslim radicals affectionately known as 'rapefugees'"; compared Islam to the Borg, a murderous, leaderless cyborg collective from the Star Trek; and explicitly stated that Islam, not just radical Islam, poses a dangerous threat to the West. During a recent "art" event in New York, he bathed in pigs' blood to make some sort of point about Muslims.

So, a friendly reminder: National security adviser is not a position that requires Senate confirmation. Soon Michael Flynn, big-time Milo Yiannopoulos fan and retweeter of anti-Semitic conspiracy theories, will have access to the government's most sensitive secrets.