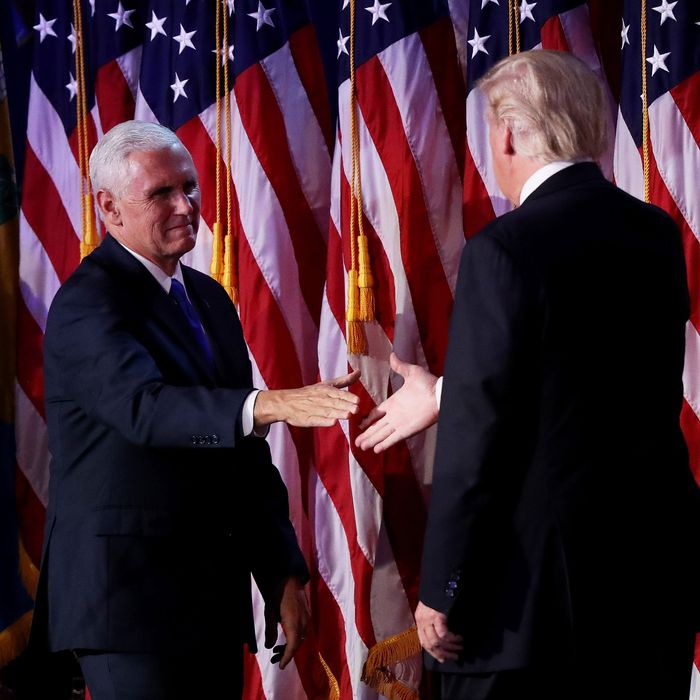 Photo: Joe Raedle/Getty Images
New Jersey governor Chris Christie is out as chairperson of Donald Trump's transition team, and Vice-President-elect Mike Pence has taken over, according to the New York Times. Though Christie took the position several months ago, he had reportedly drifted away from the campaign in recent weeks.
Alabama senator and loyal Trump supporter Jeff Sessions was said to have taken over the duties from Christie, but the campaign's transition efforts were stymied by a superstitious Trump who didn't want to assume victory. Now Pence will be tasked with getting the effort rolling again with Christie and Sessions serving as vice-chairs. Rudy Giuliani, Ben Carson, Newt Gingrich, and retired lieutenant general Michael Flynn will also serve as vice-chairs. Silicon Valley billionaire and Gawker killer Peter Thiel was among those considered to lead the team, the Times says.
Ultimately, though, President-elect Trump decided to go with Pence because of the future veep's 12 years of experience as a U.S. representative and the contacts he made along the way. Sounds like Pence will rescue a few toads before Trump drains the swamp.
The full list of transition-team members was released Friday afternoon, and it includes Thiel, along with three of Trump's children.