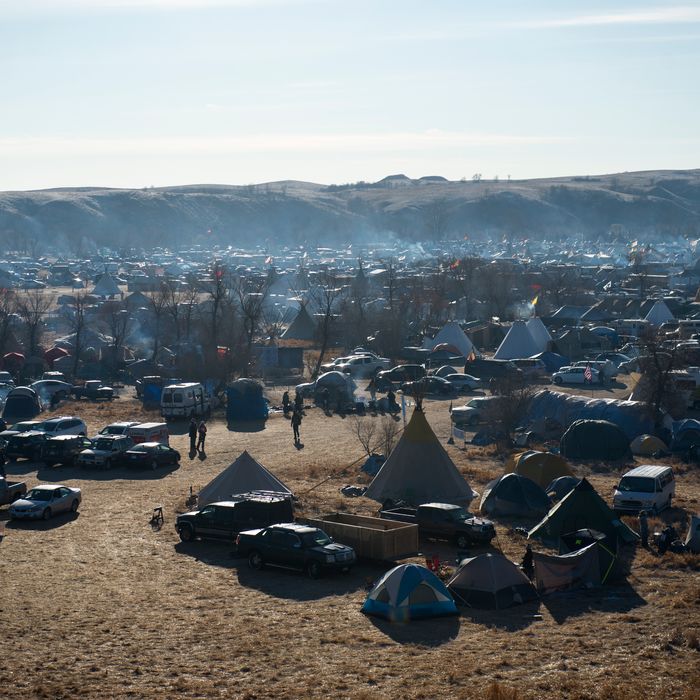 Here to stay.
Photo: Seth McConnell/Denver Post via Getty Images
On Monday, North Dakota governor Jack Dalrymple ordered the evacuation of everyone protesting the Dakota Access pipeline. Earlier, the Army Corps of Engineers had announced that they would clear the camp by December 5. Both the governor's office and the Army have said that they would not forcibly remove protestors.
The camp — about 30 miles south of Bismarck and led and organized by the Standing Rock Sioux tribe — has recently swelled to an estimated 7,000 protesters.
In his order, the governor said that his decision was based on the protestors' safety. "Winter conditions have the potential to endanger human life, especially when they are exposed to these conditions without proper shelter, dwellings or sanitation for prolonged periods of time," he said.
Jeff Zent, a spokesman for the governor, added that the order was "part of our due diligence. These folks out there have to understand the situation. We've got folks from all over the country out there and I don't know what they know about North Dakota winters."
The governor's announcement coincided with the first winter storm of the season, which dropped half a foot of snow on the campsite, but activists were still dubious — especially in light of the fact that authorities there recently came under fire for spraying campers with water cannons in below-freezing temperatures.
"We're in the heart of winter now. To even think of a forced removal is terrifying," said Dallas Goldtooth, an organizer with Indigenous Environmental Network.
Still, Goldtooth remained optimistic. He posted a video after the governor's decision showing the snow outside his yurt:
"We don't expect a forced removal or a sweep … of this camp relatively soon based on their words. But we as a camp are prepared, are preparing, for any scenario for the protection and safety of our folks," he said.
"Talk to you later," he added. "Peace. I'm going sledding later on."