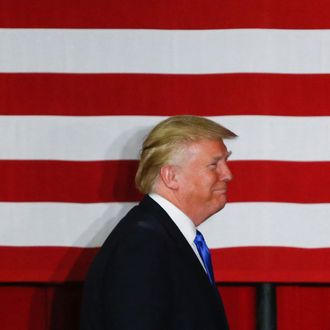 Photo: Eduardo Munoz Alvarez/AFP/Getty Images
America's president-elect and NATO Secretary General Jens Stoltenberg spoke over the phone Friday, and it appears the Western security alliance has at least survived the chat.
Trump criticized NATO during the presidential campaign, blasting some of the member-states for failing to fulfill "their obligations to us," and signaling a willingness to rethink the United States' commitment to the alliance. But, NATO said in a statement after the conversation that both Trump and Stoltenberg "both underlined NATO's enduring importance and discussed how NATO is adapting to the new security environment, including to counter the threat of terrorism."
The Trump team didn't comment on the meeting, though the two reportedly did talk about defense spending among European member-states — a previous Trumpian sticking point that the United States shoulders the majority of the financial burden. (Members are supposed to spend 2 percent of their GDP on NATO, but there's no punishment if they do not give that amount.) Stoltenberg said that conflict in the Middle East, terrorism, and an embolded Russia — among other issues — made those contributions even more imperative.