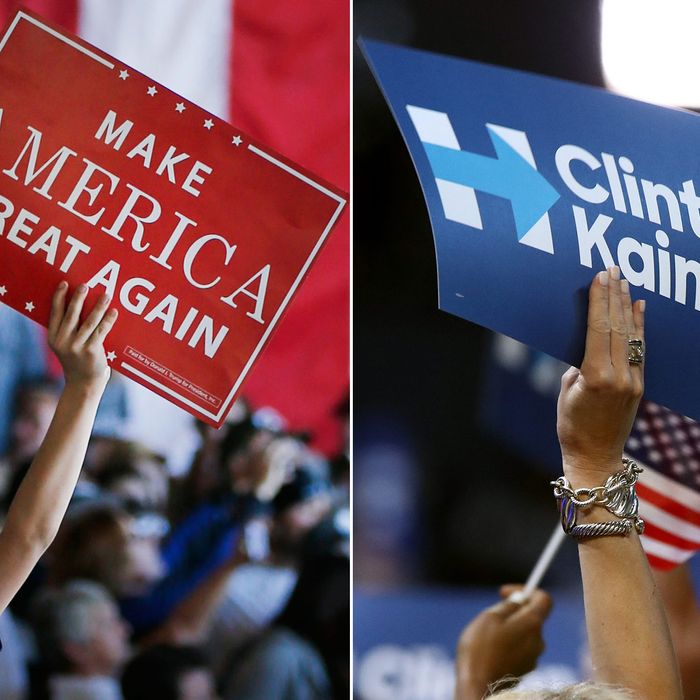 Everybody can cherry-pick a poll or two in the latest batch to keep their spirits up.
Photo: George Frey, Jessica Kourkounis/Getty Images
We're now in the no-kidding final phase of this long presidential race, and we're at a juncture where there is some disagreement about trends in public opinion after last Friday's FBI email brouhaha. Yet as Nate Cohn points out today, there has been a recent dearth of the kind of "high-quality" live-interview polls most observers trust most, at both the national and state levels. Matt Yglesias even thinks this is a dangerous long-term trend attributable to people refusing to take pollsters' phone calls and the increasing reliance of political analysts on polling aggregators that devalue individual polls.
In any event, national polls this week have been dominated by tracking, online, and robo-polls that leave the discerning political junkie unsatisfied. But there are some quality state polls coming out that provide evidence about which candidate is on the path to 270 electoral votes.
Wisconsin is a state without a lot of recent reliable polling, and one that has suddenly become a battleground where Donald Trump is challenging the perception that it is part of a Clinton "firewall." So a lot of eyes were focused today on the slow striptease release via a webcast press conference of a new survey of the state from the highly reputed Marquette Law School polling outlet. It showed Clinton maintaining a 6-point (46-40) lead over Trump among likely voters, just 1 point less than she enjoyed immediately after Trump's embarrassment over the Access Hollywood video. It was the kind of good news for Clinton that might have immediate strategic implications.
One such implication could be a shift in Trump campaign focus from Wisconsin to Pennsylvania, where several news polls show him cutting into Clinton's longtime lead. Two surveys released today (from CNN/ORC and Monmouth) show an identical 48-44 Clinton lead among likely voters — that's significantly down from the double-digit and high-single-digit leads she was regularly registering earlier (a month ago, Monmouth had her up 10). Another, from Quinnipiac, gives Clinton a 5-point lead (48-43); their last poll two weeks ago had her up by 6.
There is some tentatively good news for Clinton in Florida, where Trump has recently appeared to be surging. A new survey from CNN/ORC shows her leading by 2 among likely voters (the same outlet had Trump up by 3 in their last poll of the Sunshine State, in September), and Quinnipiac has her up by 1. And though it is hard to credit now because the full results have not yet been released, a new poll of both early and all voters of Florida from TargetSmart and William & Mary not only shows Clinton ahead by 8 (48-40), but also indicates she is benefiting from a sizable Republican crossover vote (an estimated 28 percent of Republican early voters). This could either be bad polling, or it could be a sign that Latino Republicans in South Florida are spurning Trump even as they turn out to save Marco Rubio. Since Florida is a must-win state for Trump, that could be deadly if it is actually happening.
But in another state where there is significant anecdotal evidence of a large Latino turnout, Nevada, a new CNN/ORC survey throws some cold water on the assumption that those voters might save Clinton — it shows Trump ahead 49-43 among likely voters. The same pollster had Clinton up by 2 in mid-October. But as Peter Hamby points out on Twitter, a poll of Nevada with a Latino sample too small to support any subgroup findings is questionable.
Two other states polled by Quinnipiac reinforce recent impressions of who is ahead. In North Carolina, Clinton is up by 3 percent (47-44) on the strength of a huge (22-point) lead among early voters. But in Ohio, Trump is ahead by 5 (46-41) thanks to an 18-point lead among independents in that white-working-class-heavy state.
All in all, the new polling is less of a meal for hungry analysts than an appetizer. Unless some powerful polling trends appear in the next few days, it might be a better bet to study the behavior of the campaigns themselves, whose internal polling is being readjusted constantly.