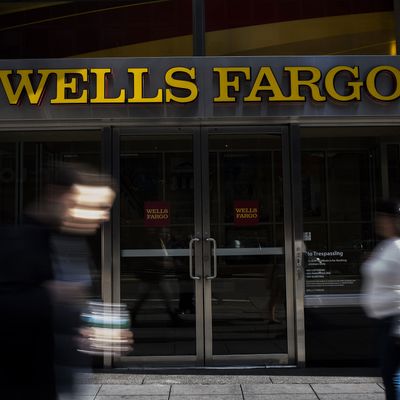 Do not enter.
Photo: John Taggart/Bloomberg via Getty Images
In early September, Wells Fargo was fined $185 million for a years-long pattern of screwing its customers. Later that month, former CEO John Stumpf was forced to give up $41 million for his failure of leadership as the bank incentivized employees to defraud people. But now Wells Fargo's punishment has really arrived as customers have begun running away from the bank.
In October, new account openings at Wells Fargo fell 44 percent from 2015. That's even worse than an already bad September, which saw 27 percent fewer account openings than a year ago. Credit-card applications fell 50 percent in October, too, worse than the 35 percent fall in September. In addition, the bank saw a 3 percent increase in account closures last month. Add it all up and you have an awful month for an institution that has taken a huge hit to its reputation.
Now it's time for the apology tour.