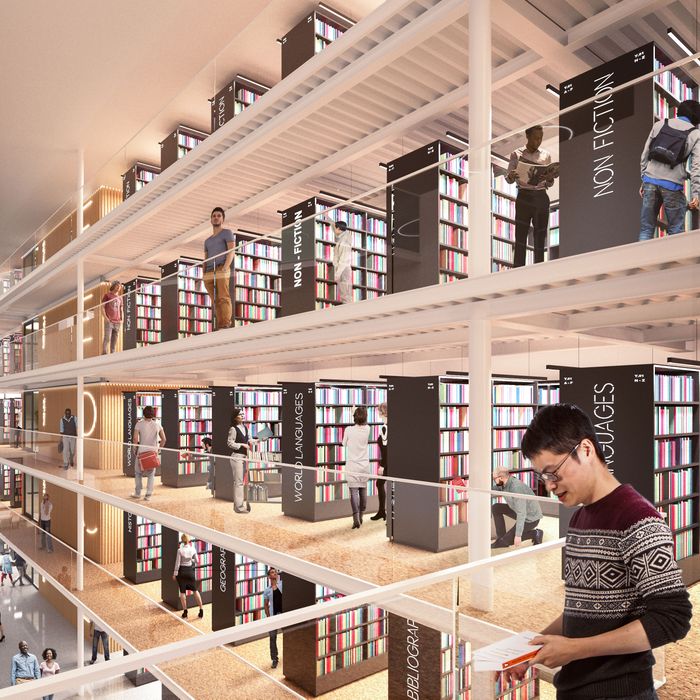 First look at the future Mid-Manhattan Library.
Photo: Courtesy of New York Public Library
If you're one of the 1.7 million people who have visited the Mid-Manhattan branch of the New York Public Library this year, or the millions more who have used it over the years, you qualify as a connoisseur of shabbiness. Seedy, musty, and cramped practically since the day it opened in 1970, the Mid-Manhattan branch has finally come up for radical renovation. The library will close in 2018 and reopen two years and $200 million later with a design by the Dutch firm Mecanoo, with Beyer Blinder Belle. The former department store, built in 1914, will sprout a new top floor with a public roof terrace. Imagine a tower of open stacks rising through a five-story atrium, holding 400,000 volumes. Children will get a full floor to themselves, and teenagers will have a library of their own.
These delights represent a turnaround from the NYPL's long-incubating, eventually jettisoned plan to sell the Mid-Manhattan branch and move its collection into the revamped core of the mother ship: the Schwarzman Building, across Fifth Avenue. That scheme ran into heavy opposition, partly because of escalating costs and also because it would have meant ripping out the main library's historic and structurally crucial cast-iron shelving. Instead, the books have mostly been moved into modern vaults below Bryant Park, and the old stacks remain empty. By 2020, a rejuvenated Mid-Manhattan branch will welcome patrons for decades to come, while the stewards of the Schwarzman Building figure out what to do with their empty core.